Miss Universe 2015 Winner Mistakenly Announced; Colombia Representative Release Statement!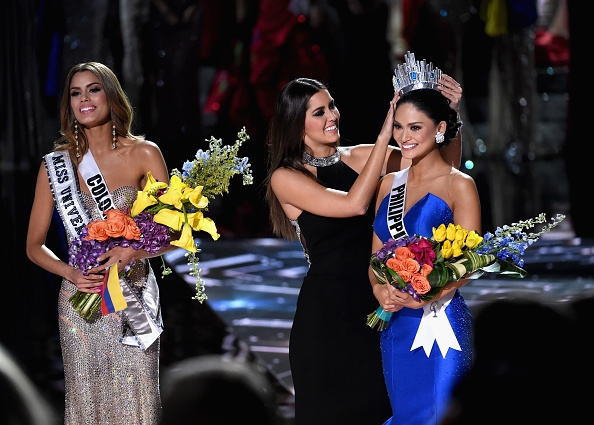 A new Miss Universe 2015 was crowned on Sunday that ended with a twist in the history of the prestigious pageant. The host had mistakenly announced the winner and gave his sincere apologies for what happened and corrected the situation.
Pia Alonzo Wurtzbach from the Philippines, has won the highest title of the night. She was first mistakenly announced as the first-runner up by the event's host, Steve Harvey and hailed Miss Colombia, Ariadna Gutierrez as the winner.
After a brief moment, the host went back to the stage and said, "OK folks ... I have to apologize," according to CNN. "Let me just take control of this."
"This is exactly what's on the card. I will take responsibility for this. It was my mistake. It was on the card," he added.
Miss USA Olivia Jordan who was right beside Pia Wurtzbach whispered to her at the stage, she was in awe and shocked about the new announcement. Miss Universe 2014, Paulina Vega had to take the $30,000 blue diamond crown off from Miss Colombia and put it to the right Miss Universe 2015 winner, according to Daily Mail.
Wurtzbach relayed her regards through the reporters and said, "I'm very sorry, I did not take the crown away from her and I wish her well in whatever she wants to pursue after this pageant," according to BBC.
A video footage was released for the fans of Gutierrez that was shared via the pageant's official facebook page. Miss Colombia said that, "Everything happens for a reason so I'm happy for all that I did," as reported by BBC.
The unexpected turn of event has made an impact through social media because of the wrong information made by Steve Harvey. The host sincerely apologized on live television showing the real results on the card as well as via his Twitter account that was retweeted by 51,000 users.
Even after he said sorry, he received mixed reactions from the people on the internet. Some fans criticized him as a host while others posted positive statement and gave him their support despite of what happened.
The live telecast of the pageant ended without any credits and didn't show Miss Philippines taking her first walk as the winner of Miss Universe 2015.
© 2019 Korea Portal, All rights reserved. Do not reproduce without permission.