South Korea, China And Japan To Hold Trilateral Summit Amidst Tension With North Korea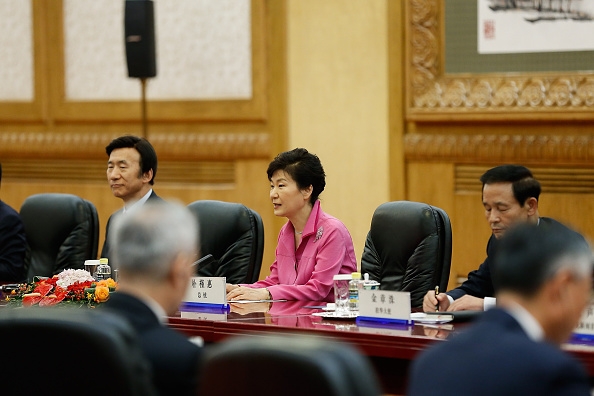 After months of tension, South Korean President Park Geun-hye has pushed for a trilateral summit with China and Japan, according to the publication The Hankyoreh.
During a summit at the Great Hall of the People in Beijing on September 2, Park and Chinese President Xi Jinping agreed to hold the suggested trilateral meeting in October or November in order to contribute to peace in the region, according to VOA News.
Tensions have reportedly been high in both China and South Korea over demand that Japan more fully apologize for wartime atrocities committed under Japanese occupation. Last month, Park reportedly traveled to Beijing marking the victory over Japan, becoming one of the few leaders of a U.S.-allied nation to participate in the event.
"Park's presence in the parade is no doubt very significant," Wu Fengshi, associate professor at the Institute of Defense and Strategic Studies in Singapore, said.
"She is expecting support from China in case of a major conflict with North Korea."
During the summit this week, it was reportedly expressed by both South Korea and China that any activity causing tension on the Korean peninsula would be opposed.
"Both sides emphasized that the Sep. 19 Joint Statement and the related resolutions by the UN Security Council should be faithfully implemented and in relation to this that they oppose any action whatsoever that increases tensions," the press release said.
Kim Chang-soo, head of research at the Korea National Strategy Institute added, "In context, this can be understood as a request for North Korea not to carry out a nuclear test or to launch a missile."
Commentators on Chinese state television reportedly stated that Seoul wants Beijing to increase pressure on the Democratic People's Republic of Korea and resume the process of six-party talks for denuclearization of the Korean peninsula.
"It is important for China to deal with DPRK by freezing assets in the short term. But in the long term, Beijing must get promises from South Korea and the U.S. to prepare a roadmap for DPRK's full denuclearization," Kim Han-kwon, an analyst with the Korea National Diplomatic Academy, said on China Central Television.
© 2023 Korea Portal, All rights reserved. Do not reproduce without permission.