The Best Food Places In South Korea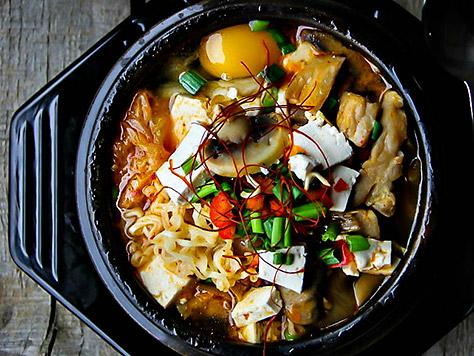 South Korea is a country known for its rich culinary culture, with a variety of traditional and modern dishes to indulge in. From street food vendors to high-end restaurants, South Korea has something to offer for every foodie out there. Here are some of the best food places to visit in South Korea.
Gwangjang Market, Seoul
Located in the heart of Seoul, Gwangjang Market is a must-visit for anyone looking to experience traditional Korean street food. From savory dishes like bindaetteok (mung bean pancakes) and tteokbokki (spicy rice cakes) to sweet treats like hotteok (sweet pancakes), there's something for everyone. The market is also home to some of the best bibimbap (mixed rice) and mayak kimbap (miniature rice rolls) in the city.
Noryangjin Fish Market, Seoul
Seafood lovers cannot miss the Noryangjin Fish Market, one of the largest seafood markets in South Korea. The market has a wide variety of fresh seafood, from fish and shellfish to octopus and squid. Visitors can choose their seafood and have it cooked on the spot at one of the many restaurants in the market.
Jeonju Hanok Village, Jeonju
Jeonju is known for its traditional Korean cuisine, and the Jeonju Hanok Village is the perfect place to experience it. The village is filled with small restaurants and cafes serving up local delicacies like bibimbap, kongnamul gukbap (bean sprout soup with rice), and makgeolli (rice wine). The village's traditional architecture and atmosphere add to the overall dining experience.
Gogung, Seoul
For those looking for a more upscale dining experience, Gogung is a must-visit. The restaurant is known for its traditional Korean dishes with a modern twist. Their signature dish is the galbi jjim (braised beef ribs), which is slow-cooked for hours in a soy sauce-based marinade.
Tosokchon, Seoul
No trip to South Korea is complete without trying some traditional Korean samgyetang (ginseng chicken soup). Tosokchon in Seoul is one of the best places to try it. The restaurant has been serving up its famous samgyetang for over 30 years, made with a whole chicken stuffed with rice, ginseng, and other herbs.
South Korea is a foodie's paradise with a variety of traditional and modern dishes to try. Whether you're in the mood for street food or fine dining, there's something for everyone in South Korea's vibrant food scene.
© 2023 Korea Portal, All rights reserved. Do not reproduce without permission.