Disney+ Unveils Trailer and Official Poster for Upcoming Drama 'Race'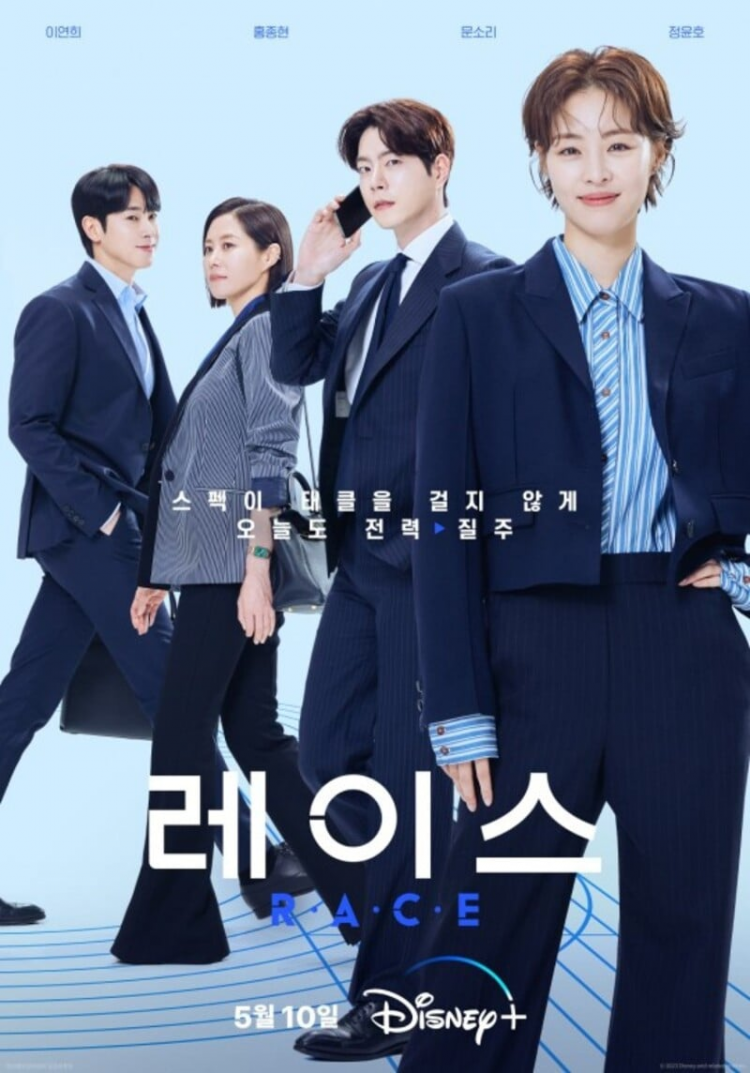 Lee Yeon Hee, Hong Jong Hyun, Moon So Ri, and Yunho are featured in the official poster for Disney+'s upcoming drama titled Race. The show is slated to be released on the popular streaming platform on May 10. A trailer for the drama was also uploaded recently.
As of press time, there is still not much info about the series except that it centers on the character Park Yoon Jo having no qualifications to join a large company with passion, gets caught into a recruitment scandal and struggles to survive on work life.
Lee Yeon Hee is a South Korean actress and model. She was born on January 9, 1988, in Seoul, South Korea. Lee Yeon Hee made her debut as a model in 2001 and later transitioned to acting, making her debut in the 2004 TV drama "Sea God."
Since then, she has appeared in a number of popular Korean TV dramas such as "Phantom" (2012), "Miss Korea" (2013), and "The Package" (2017). She has also starred in several films including "Detective K: Secret of the Living Dead" (2018) and "The New Year's Eve of Old Lee" (2016).
Moon So Ri is a South Korean actress and film director. She was born on July 2, 1974, in Seoul, South Korea. Moon So Ri began her career in the entertainment industry as a TV actress in 1998 and later transitioned to films.
She has appeared in many critically acclaimed Korean films such as "Oasis" (2002), "A Good Lawyer's Wife" (2003), "Peppermint Candy" (1999), "The Handmaiden" (2016), and "The Running Actress" (2017). Her performances in these films have earned her numerous awards and accolades both in South Korea and internationally.
Yunho, also known by his full name Jung Yun-ho, is a South Korean singer, dancer, and actor. He was born on February 6, 1986, in Gwangju, South Korea.
Yunho is best known as a member of the popular K-pop group TVXQ, also known as DBSK, which debuted in 2003. TVXQ became one of the most successful K-pop groups in the mid-2000s, achieving massive popularity throughout Asia and beyond. Yunho has released numerous albums and singles with TVXQ, and the group has won numerous awards and accolades throughout their career.
In addition to his music career, Yunho has also ventured into acting, starring in a number of Korean dramas such as "Poseidon" (2011), "Queen of Ambition" (2013), and "Melo Holic" (2017). He has also appeared in several films, including "Ode to My Father" (2014) and "Makgeolli Girls" (2015).
© 2023 Korea Portal, All rights reserved. Do not reproduce without permission.