Manga Artist Creates AI-Drawn Manga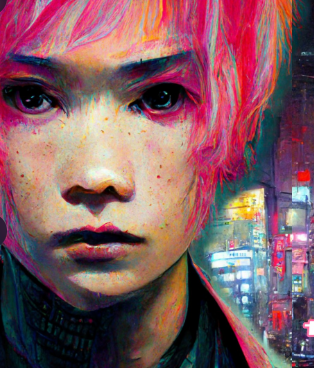 Rootport, a manga artist posted a manga series titled Cyberpunk Momotaro last August 2022. It was recently announced that series will be published a compiled manga volume to be released on March 9 by Bunch Comics.
What makes this manga special from the others out there is the fact that it uses AI software Midjourney AI art software and create and assemble this science-fiction story. It is a reimagined story of the legend of Momotaro (called as "Peach John" in the manga".)
To give you an idea of the what the manga is about, an old couple who runs a strip club in Neo Okayama discovers an unconscious boy at their doorstep. The boy is an amnesiac but has locked data from "KBY" at his hip. It is Peach John's destiny to fight against formidable foes.
AI Art has been a controversial topic in online and art communities as it easily creates art based on a collection of various original artworks published online. Art platforms like Skeb have already banned AI Art as a way to support original artwork.
© 2023 Korea Portal, All rights reserved. Do not reproduce without permission.