This Rainbow Rice Cake Is A Sweet Recommendation!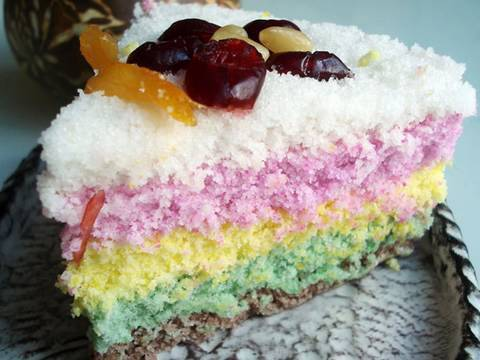 Want to try to a different kind of dessert? We recently stumbled upon this delicious rainbow rice cake and its perfect for those who are looking for a snack that's full of flavor or color.
Rainbow Rice Cake or Mujigae-tteok has 5 different colors from the bottom to the top layer. In this recipe that we found, it uses brown, green, yellow, pink, and white colors.
You can usually find this cake in special occasions like a baby's first birthday or in a wedding. Although this cake takes a little bit more effort and time, but end result is worth especially if you're making this for the person you care for the most.
Making this cake takes around 1.5 to 2 hours. You need 2 pound package of frozen rice flour, sugar, water, kosher salt, liquid food coloring (three or four is recommended), mugwort powder, lemon, and cocoa powder. For utensils, you need a sifter, a steamer, and an 8 inch ring or springform.
You can check out the complete procedure (especially on preparing each cake layer) here. We absolutely enjoyed this dessert and we think this is the perfect cake to have to welcome 2023!
© 2023 Korea Portal, All rights reserved. Do not reproduce without permission.