BTS Member Jin is Featured in New 'Jin Ramyun' Commercial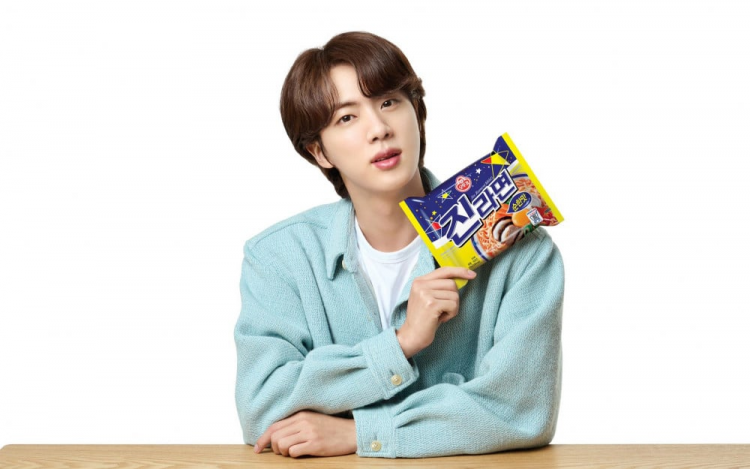 Ottogi's latest commercial of their Jin Ramyun was extra special as their model that they selected is none other than BTS Member, Jin.
Ottogi expressed that the reason that they have selected Jin as their new model for their popular Jin Ramyun product was because of his sincerity toward music. His continuous success in reaching for the top of the music charts through his genuine love for music aligns with the company's mission and values in searching for the best flavor and quality.
In the video, the narrator asks Jin, "Jin, do you like Ramyun?". The BTS member then gave a reply, "I like Jin Ramyun."
BTS member Jin's first solo album titled The Astronaut sold a total of 700,954 copies as of November 3, on its first-week sales on the Hanteo chart. The Astronaut was co-composed, written, and produced by popular international band Coldplay.
Officially, this is the 3rd best-selling album by solo artists in terms of first-week sales records for all albums. An important note that the Hanteo chart mostly not account the physical album sales in the United States, or in other album distributors that are not verified by the chart.
The album has also ranked at #33, which was previously held by BTS' Love Yourself 承 Her.
It was reported that BTS member Jin has submitted a notice to cancel his military postponement. According to a recent report dated November 4, he submitted his military postponement notice to the Military Manpower Association. As of press time, the group's talent management HYBE has not yet released a statement regarding this.
If these reports are confirmed, it could mean that Jin, as well the other BTS members in the future are now eligible to be called to enlist to the military at any time. Jin's enlistment to the Korean military was postponed previously until December 31, 2022 Korea Standard Time.
© 2022 Korea Portal, All rights reserved. Do not reproduce without permission.