Watch BTS Member Jin and Ji Suk Jin Featured in Fun Preview of 'Running Man'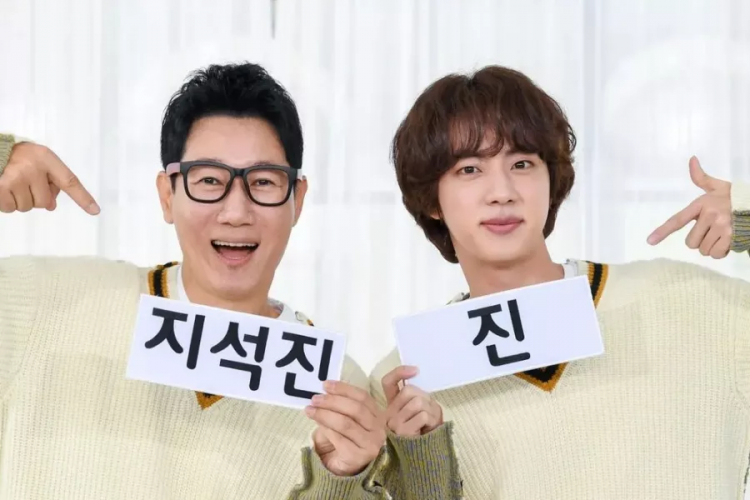 The popular SBS variety show Running Man aired a sneak peek for their upcoming episode next week which features BTS members Jin as their special guest. The video's caption teaser says: "The same name, completely opposite lives. Two universes that seem both similar and different at the same time will collide." The episode will air on October 30, 5 pm KST.
On the sneak peek was that was posted on October 23, it highlights the playful parallel and differences of Jin and his friend Ji Suk Jin. The first part of the clip shows Jin saying "Every morning at 8 o'clock, I drink an Americano." This jokingly shows a contrast between the modern and "sophisticated" Jin with the old-fashion Ji Suk Jin, in which the latter says "Every morning at 8 o'clock, I drink ssanghwa tea."
The video also shows a clip of Jin saying "I like 'middle-aged man [dad] jokes,'" then Ji Suk Jin cuts in hilariously saying, "I'm a middle-aged man." Jin then goes on telling himself that he is "the eldest member of BTS," while Jin Suk Jin describes himself as the "the eldest member of Running man."
Korean music and talent company HYBE has officially announced that BTS will be enlisted for military service. The first member to be enlisted is Jin who is the eldest member of the popular 7-member boy group.
Defense Minister Lee Jong-sup and Culture Minister Park Go Gyun said in a statement previously that "it is desirable" for the members of BTS to accomplish their military duties to make sure that there is fairness in South Korea's military service.
Under the South Korean law, Korean men are required to perform military service for a period of 18 to 21 months. The law also provides exemptions to Korean athletes, musicians (classical and traditional), and dancers (e.g. ballet) who have won in major competitions that bring pride and prestige to the country. Since this is mandatory, some would have to suspend their professional careers. The exemptions of the service are still a highly sensitive topic until this day.
© 2022 Korea Portal, All rights reserved. Do not reproduce without permission.