The Spanish Needle: 4 Uses Of The Bidens Pilosa Plant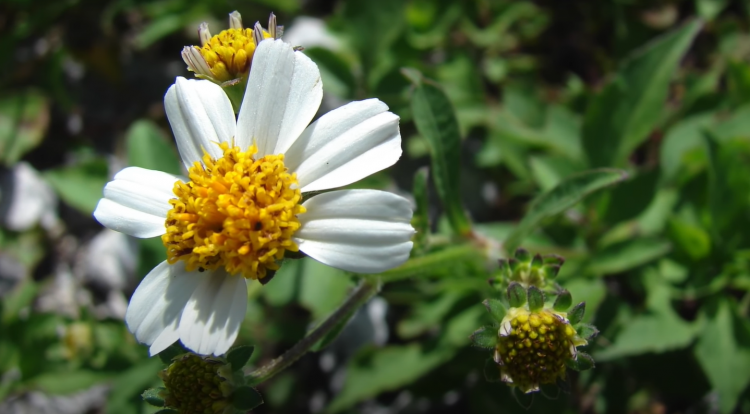 Spanish Needle, Black Jack, Farmer's Friends, and Hairy Beggarsticks-these are just some of the many aliases Bidens Pilosa has gotten over the years. Commonly found in tropical and warm regions of the world, the Bidens Pilosa is a widespread, rapidly growing weed. A single plant can produce up to 6,000 seeds a year, with each living for up to 5-6 years.
In various cultures, Bidens Pilosa is used as a food source and for medicinal purposes. Its leaves have a resinous flavor and are eaten raw, in stews, or prospectively dried for storage. Here are 4 examples of its mighty benefits:
Anti-ageing
The Spanish needle boasts a retinol-like effect on the skin, treating skin aging and photoaging (e.g. fine lines, wrinkles, looser skin, spots, and pigmentation), without the sensitivity that can sometimes come with using a non-plant based retinol product.
Some vitro tests found that Bidens Pilosa increased collagen 1 by 24%, functional elastin by 42%, and sirtuin-6 gene expression (linked to cell longevity) by 2.4 fold.
Cardiovascular health
Bidens Pilosa is also thought to help reduce bad cholesterol levels while increasing good cholesterol. Cholesterol is vital for the formation of cell membranes, certain hormones, and Vitamin D. It prevents plaque build-up in blood vessels and reduces the risk of experiencing heart attacks and strokes.
Its antioxidant properties can also help maintain cardiovascular health by reducing blood pressure as well as cholesterol.
Diabetes
The roots, leaves, and seeds of Bidens Pilosa have many health benefits, traditionally used as an anti-diabetic medicine. Initial animal research has shown that it reduced blood glucose levels and increased serum insulin levels in mice. The mice were given Bidens Pilosa water extract every day for 28 days. Additionally, the study concluded that Bidens Pilosa improved gluten tolerance.
Weight loss
In one study Bidens Pilosa, it found that the plant decreased body weight gain and fat content. It also led to reduced lean tissue. Reportedly, its anti-obesity functions were due to its ability to inhibit the Egr2, C/EBPs, and PPARγ pathways within adipose tissues. This anti-obesity action reduced appetite and fat digestion/absorption and/or increases lipid breakdown, as well as energy use.
The Farmer's Friend can be anybody's companion with its many positive properties and multiple functions as a vegetable, medicine, and even cosmetic ingredient. KPTown offers a pack of Bidens Pilosa Extract at 29% off today! It can serve as a safe, natural, high-grade blood sugar control assistant that improves the pancreas' insulin production, lowers blood sugar, and fundamentally helps with diabetes.
© 2023 Korea Portal, All rights reserved. Do not reproduce without permission.