'Hometown Cha-Cha-Cha', Upcoming Projects, & More, Shin Min Ah Goes In-Depth!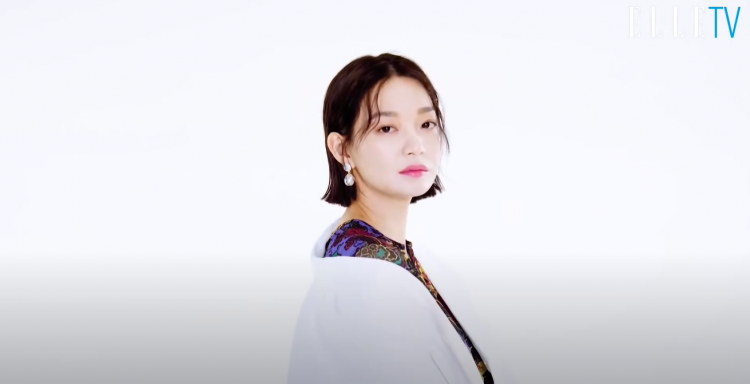 Actress Shin Min Ah has been featured as the cover of fashion magazine Elle for their January 2022 issue! Aside from flaunting her elegance and beauty, the actress also spilled some tea in the subsequent interview.
READ: 'Hometown Cha-Cha-Cha' Star Shin Min Ah Is Now A Global Ambassador For Gucci!
In the interview, Shin Min Ah revealed that she has been filming her upcoming drama "Our Blues." She shared, "I'm filming 'Our Blues,' and I think I will be able to show fans a different performance from my previous work. I'm really focused and excited these days. The rich stories portrayed by various actors will comfort viewers a lot."
To the delight of her fans, Shin Min Ah also talked about her previous hit drama "Hometown Cha-Cha-Cha" with co-star Kim Seon Ho.
READ: Amidst Recent Controversy, How Do The 'Hometown Cha-Cha-Cha' Staff Feel Towards Kim Seon Ho?
Regarding her previous drama, Shin Min Ah expressed she thinks that she became more flexible after portraying Yoon Hye Jin in "Hometown Cha-Cha-Cha." For the actress, just because she started a new project does not mean that her previous project disappears internally.
The actress added, "Right now, I am Hye Jin and Sun Ah (the character she portrays in 'OurBlues'). I've been living and thinking as Hye Jin for months, so I want to say goodbye to her properly, but I started filming my next project shortly after 'Hometown Cha-Cha-Cha' ended, so I feel like I'm both characters even more."
Shin Min Ah was then asked if she has improved her acting in the way she lives as a working woman, an actor, and a star.
Adorably, Shin Min Ah chuckled while replying that she has not become proficient. If it looks like she is, it is just because it does not show. She believed that she could get used to doing the same thing for more than 20 years, but the more she does it, the more she worries.
© 2023 Korea Portal, All rights reserved. Do not reproduce without permission.
Tags:
Elle
,
ELLE news
,
ELLE updates
,
Shin Min Ah ELLE
,
ELLE Shin Min Ah
,
ELLE January
,
ELLE January issue
,
kwave
,
kwave news
,
kwave updates
,
Kdrama
,
kdrama news
,
kdrama updates
,
Shin Min Ah
,
Shin Min Ah news
,
Shin Min Ah updates
,
Hometown Cha-Cha-Cha
,
Our blues
,
Our Blues news
,
Our Blues updates
,
Shin Min Ah Our Blues
,
Our Blues Shin Min Ah