Coldplay's Chris Martin Reveals One BTS Member Made 'My Universe' Collaboration Happen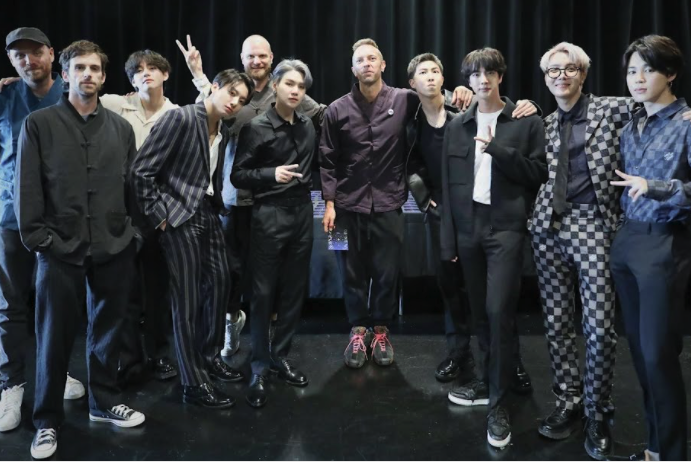 BTS and Coldplay recently collaborated on a new single, titled 'My Universe', the song, which rose on top of the Billboard Charts proves that corroboration between two bands from different genres can work.
When both bands announced that they will be working with one another, it came as a shock to everyone. Doors were opened between South Korean pop group BTS and British band Coldplay after BTS covered one of their songs 'Fix You' on MTV's Unplugged. Immediately, the song rose on the charts and put BTS on Coldplay's radar.
Soon after the collaboration happened. Now, Chris Martin has revealed that the song with BTS would not have happened if it was not for one of its members. During a sit down with Ryan Seacrest for the 'On Air With Ryan Seacrest' show, Chris Martin shares his thoughts on BTS and 'My Universe'.
Seacrest pointed out during the interview that a lot of western artists are hesitant regarding expanding their music into K-pop, of which Chris agreed. Coldplay's Chris Martin even confessed that at first, he was not sure how it would work, but because of one of BTS's members the song ended up being made, and that is thanks to Jin.
"The idea got suggested by somebody, by Jin, Worldwide Handsome Jin. I was like, 'I don't know how that will ever work. Then, of course, we love them, and one day the song just appeared. And then we thought, 'Oh right, this is supposed to be for BTS, and now here we are," Chris Martin shared.
Fans of BTS were very shocked knowing that Jin was the one who suggested that Coldplay make music with them. But, this does not come as a shock, Jin has been a big fan of the British band since he was very young, so being able to work with them was a dream come true.
© 2023 Korea Portal, All rights reserved. Do not reproduce without permission.