aespa Accused Of Plagiarizing Their Photoshoot Concept For Their Upcoming Mini Album 'Savage'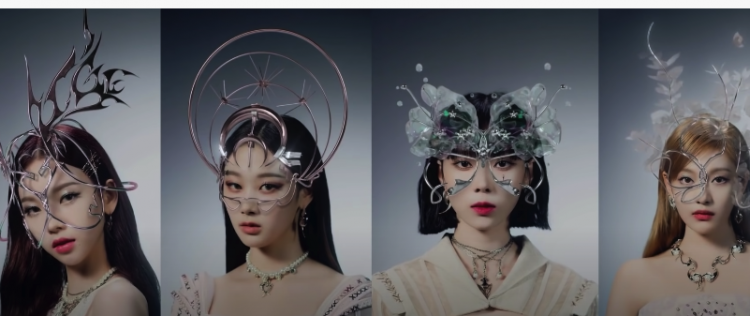 Aespa is once again embroiled in plagiarism accusations after official images for the teaser of their upcoming mini-album 'Savage' was released to the public today. Korean netizens have noticed that the visuals are very alike to Japanese illustrator Hajime Sorayama's work.
In one of the teaser photos of aespa, member Karina is floating in the air with an insect-like figure wrapped around her and supporting her. This robotic figure is said to represent their 'Black Mamba' era. The visuals for 'Savage' are unbelievable and if you are not familiar with Sorayama's work you might think this concept is original.
A netizen pointed out that Hajime Soriyama has illustrated Karin's photo concept way back. In Hajime's work, one can see a female body floating with an insect-like figure carrying the woman, much like aespa's concept photoshoot for 'Savage'.
Together with Karin's photo, aespa also released a set of headshots for the members with them donning headpieces. Again, the group was accused of plagiarizing this concept.
k-netizens believe that the mask resembles a collection done by British designer James Mary. "The mask that appeared in aespa's teaser resembles James Mary's collection. I wonder if SM Entertainment has officially collaborated," critic Kim Do Hyun commented.
Aespa has been bombarded with plagiarism accusations several times before. During the release of aespa's 'Black Mamba' teaser, a visual artist claimed that SM Entertainment plagiarized his work, to cover up their tracks the talent agency hired him to be on board for the promotions of aespa's 'Black Mamba'.
Around the same time, German visual artist, Timo Holgert, also took to Instagram to air out his dismay about the Korean girl group. He uploaded a side by side look of a clip from aespa's video and two of his work. Indeed there were similarities between his work and aespa's music video.


© 2023 Korea Portal, All rights reserved. Do not reproduce without permission.