'Squid Game' Bank Account Gets Bombarded With Money Deposits, Director Hwang Dong Hyuk Explains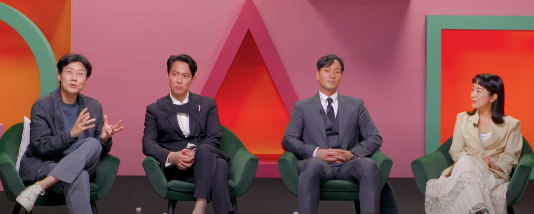 Across the globe, people have been talking about the Netflix series 'Squid Game'. The unique storyline of the show has captured everyone's heart. The premise, which is all about putting people who have massive debts in an arena, and being pitted against themselves, against time, and against the perpetrator of the said 'Squid Game'.
Recently, the production team of the show has been under fire, after it was revealed that the bank account used by the front runner of the show was indeed a real bank account. According to reports, several fans of the show have sent 465 Korean Won to the said bank account.
In an interview, director Hwang Dong Hyuk explained that the bank account is now closed. He shares that one of the staff members of 'Squid Game' owned the account, and before the filming started they asked for permission to use it.
The closing of the bank account was done after a major problem happened after the series was released. In one of the scenes, a phone number was shown, as claimed by Hwang Dong Hyuk they were told that the number is safe to use, unfortunately, fans found a way to make this a viable phone number by adding (010) at the front.
The owner of the said phone number has been bombarded by messages and calls from 'Squid Game' fans. Dong Hyuk shared that they have contacted the owner and are compensating him for the trouble.
In the interview as well, he praised one of the cast members of the show. Jung Ho Yeon who plays Kang Sae Byok in 'Squid Game' is apparently a 'gift sent from god'. Dong Hyuk explains that the casting is very important in the series, and one particular character he had a hard time casting was Kang Sae Byok.
When model turned actress Jung Ho Yeon sent her audition tape, Dong Hyuk was relieved.
You can watch 'Squid Game' on Netflix.
© 2023 Korea Portal, All rights reserved. Do not reproduce without permission.