Group Demands Resignation Of South Korean Buddhist Monk Following Accusations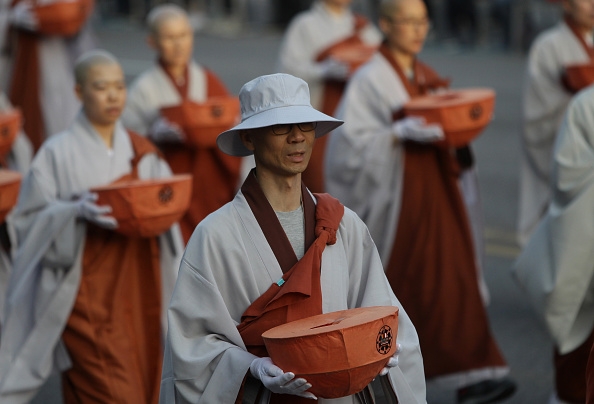 Monk Seong Wol has been accused of embezzling funds and fathering children out of wedlock, according to the news outlet UPI.
A group is now reportedly demanding that the chief monk of the temple in Hwaseong, Gyeonggi province, resign as he's "violated religious precepts."
A very tense altercation broke out on Monday when a former chief of the temple, Monk Jeong Ho, reportedly attempted to enter the grounds in order to hold a provisional meeting to discuss the resignation of Seong Wol, according to South Korean news agency Yonhap.
Supporters of Seong Wol were reportedly seen blocking the entryway and prevented Jeong Ho and other opponents from stepping inside. A monk who reportedly attempted to climb the wall was thrown back outside by five opposing monks.
One monk reportedly collapsed during the violence and was transported by ambulance to a nearby hospital. 80 police officers reportedly arrived on the scene as the two sides continued to clash.
Monks who supported the resignation reportedly called for a paternity test to reveal the truth regarding the charges against Seong Wol.
Religion in South Korea is predominately characterized by a mix of Buddhism, Protestantism and Roman Catholicism, with Buddhism coming in as second with 22.8% supporters from the population, according to the census of the year 2005.
Earlier this spring, about 300,000 Buddhists joined together in front of Seoul's main palace to pray for peace and Korean reunification, according to CNN.
"The separation has been causing pain for the people," stated Supreme Patriarch Jinje.
"To solve this problem, we are focusing on peace for the Koreas during this Buddhism meditation assembly. The purpose of this meditation is to bring peace to all the people — people of the whole world."
© 2023 Korea Portal, All rights reserved. Do not reproduce without permission.