'Demon Slayer' Spinoff Anime Short 'Kimetsu Gakuen' Gets Manga Series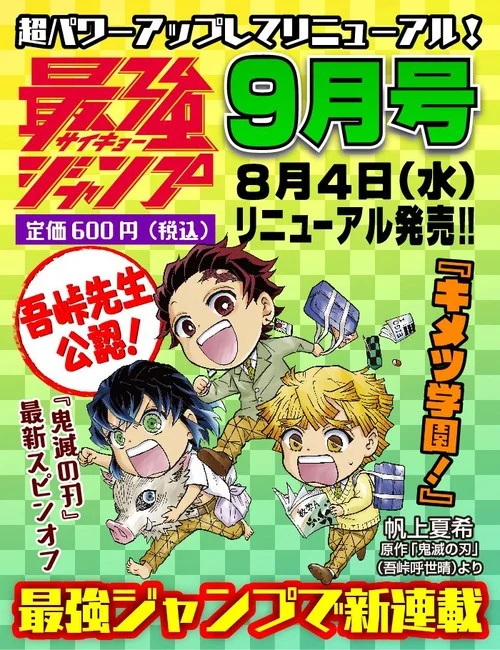 It was announced in the latest issue of the Weekly Shonen Jump that the spinoff anime short series of "Demon Slayer - Kimetsu no Yaiba" titled "Kimetsu Gakuen" will have its own manga series. The series will launch on the September issue of Saikyo Jump magazine which will launch on August 4, 2021.
The manga will have the main characters of the "Demon Slayer" series will be drawn in a super-deformed style, illustrated by Natsuki Hokami. A Valentine's Day-themed short titled "Kimetsu Gakuen Valentine-hen" made its premiere on February 14 this year and features the characters in a school-themed setting.
The official English website of the Demon Slayer anime announced recently that "Demon Slayer -Kimetsu no Yaiba- The Movie: Mugen Train" is now available on digital. Now you can enjoy one of the highest-grossing anime films in the comforts of your home or on the go. It will be distributed on Google Play, Microsoft Store, Vudu, PlayStation, Amazon, and Apple TV for digital release.
During its screening in theaters in the United States, it earned almost $42 Million since May 2021. The latest stats in the website Numbers revealed that it is currently the #1 film worldwide. This is the first time that a non-Hollywood or non-U.S. film achieved something this big. In Japan, "Mugen Train" has sold 28.87 million tickets earning 39.88 billion yen.
The first weekend screenings of the film are so far the highest opening weekend earnings ever for a foreign-language film in the United States. News sources reported that the film had earned USD $19,542,227 on its opening weekend alone. It also the third-ever high opening weekend in the country for an anime film.
It has also surpassed the gross earnings of Studio Ghibli's animated masterpiece, "Spirited Away," as the #1 highest-earning Japanese film of all time worldwide. "Spirited Away" earned 30.8 billion yen in the Japanese box office during its original run.
© 2023 Korea Portal, All rights reserved. Do not reproduce without permission.