Have A Beefy Twist With Pan-Cooked Beef Salad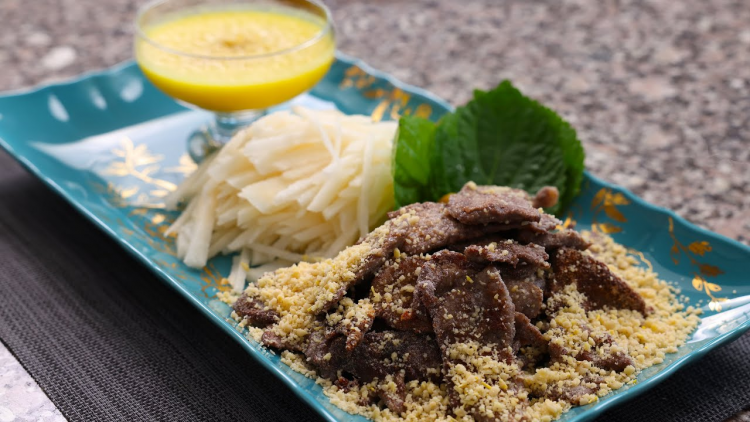 Summer season is here and what better way to welcome the hot months with some great dishes. As always, we stumbled upon a very delicious dish that you can definitely try out at home.
Sogogi chapssal-gui or pan-cooked beef salad is a great recommendation to cook for the season because it can be served cold or at normal room temperature. Read on as we give you the ingredients and basic steps on how to cook this fancy dish that you can have for yourself or with your summer buddies.
Here are the ingredients you need to make the sauce of the pan-cooked beef salad (gyeoja-maneul jang): Korean mustard powder (1 tablespoon), warm water (1 tablespoon), 4 garlic cloves, white vinegar (3 tablespoons), kosher salt (2 teaspoons), peeled apple (small), honey (1 tablespoon, you can also use sugar if not available), and toasted sesame oil (1/2 teaspoon.)
Here are the things you need for the beef salad: sirloin or tenderloin beef steak (1 pound), kosher salt (1 teaspoon), ground black pepper (1/4 teaspoon), toasted sesame oil (1 teaspoon), glutinous rice flour (1/3 cup, you can also use all-purpose flour if not available), and Korean pear. For garnish, you can add ginkgo nuts or pine nuts but this is optional.
For the sauce, combine and mix well the mustard powder and warm water in one bowl. Sit for five minutes so that the spicy flavor of the mustard powder is well-activated. In a food processor, mix the garlic, salt, vinegar, and apple. Add honey and sesame oil to your mustard mixture. Once everything is mixed, keep it refrigerated for now.
Now we go to the beef. Cut the beef into very thin slices and spread them out. Sprinkle in some salt and pepper evenly on each. Drizzle the pieces with sesame oil and massage them with your hands. You don't need to flip the fillets as you only need to season the top of the beef.
Cook the pieces in a hot skillet one by one. Cook them for about a minute or until the color is light brown. Flip it and cook the side for another minute. Put them in a plate piece by piece. Place the beef in a large platter, peel and cut the pear into small pieces, and serve these together with the mustard sauce. Enjoy!
© 2023 Korea Portal, All rights reserved. Do not reproduce without permission.