Yummy Gimbap For The Chicken Craving Soul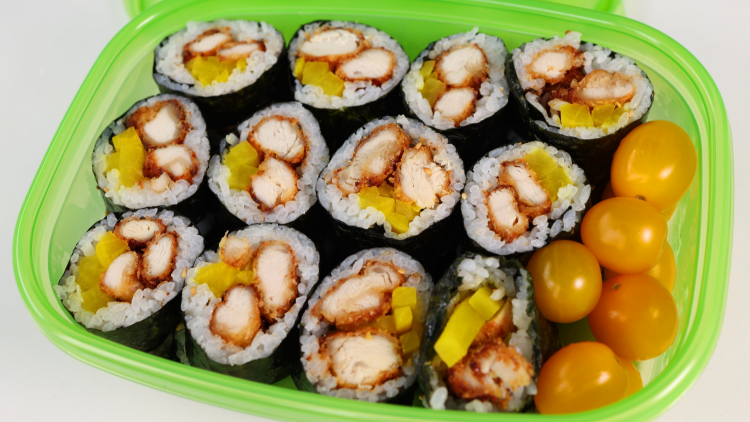 If you're craving Korean food that is either a full meal or a simple snack during the day, Gimbap has always been one of the popular choices. The reason for this is that it is very easy to make, and the ingredients are not stressful to look for.
While Gimbap is usually notable for having seafood as its core ingredient, today, we are going to share with you how you can make delicious chicken gimbap at home. We absolutely love making this because it satisfies the cravings for Gimbap and chicken. Best of all, you only need two main ingredients to make it: crispy fried chicken and some danmuji (yellow pickled radish.) If you're craving some spice, then the option of adding spicy sauce or chili to the Gimbap is possible.
The following ingredients mentioned below can make 4 rolls perfect for two people:
-1/4 cup whole milk
-1 pound of chicken (any part is okay but we recommend you get tenderloin), cut into thick strips around 1/3 to 1/2 inch
-1 tablespoon soy sauce
- 1 clove of minced garlic
-2 tablespoons of sugar and honey
-1/4 teaspoon ground pepper (white or black)
-1/4 all purpose flower
-1/2 bread crumbs
-a half-cup of cooking oil (grapseed, coin, or vegetable oil is fine)
-12 strips of pre-cut danmuji
-4 sheets of seaweed paper (gim)
-3 cups of cooked rice (you can increase the serving to your preference)
-sesame seeds (1 teaspoon)
-1 and half teaspoon of toasted sesame oil
Marinate the chicken and milk in a bowl and mix them well. Then let it marinate for half an hour. While waiting, you may put the freshly cooked warm rice in a wide bowl and place in the salt and sesame oil over the top. Fold it gently and scoop it carefully.
To pan-fry the chicken, place the bread crumbs on a large tray, squeeze out the excess milk from the chicken and add the soy sauce, garlic, sugar/honey, black/white pepper, and flour. Mix all well.
Take one piece of the chicken and place it on the bread crumbs. Make sure each piece is coated evenly, then fry them.
Now you divide your rice into 4 parts, then place the sheet of seaweed paper on a bamboo gimbap. Evenly spread a portion of the rice over the seaweed paper and make sure you leave a 1-inch margin. Then grab your cooked chicken and place it on top along with the danmuji. Roll and cut.
We hope this helps you make the perfect chicken gimbap. More Korean food recommendations soon!
© 2023 Korea Portal, All rights reserved. Do not reproduce without permission.