Ahn Jae Hyun Opens Up To 'Spring Camp' On His Hiatus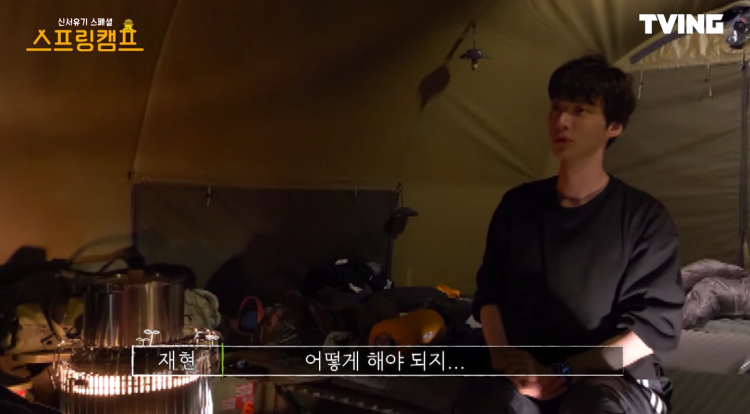 Ahn Jae Hyun admitted to having struggled after his hiatus from "New Journey to the West" on the most recent episode of "Spring Camp.
Despite being a member of the "New Journey to the West" cast since the show's second season, Ahn Jae Hyun opted not to appear on "New Journey to the West 7" in 2019 due to personal reasons, and he also did not return for the show's eighth season last year.
The star reunited with the cast of "New Journey to the West" for their new spin-off "Spring Camp," a TV ING special that follows the members as they go camping together.
P.O reflected on how good it was to have Ahn Jae Hyun back and to be all together again while the three stars welcomed the quiet of nighttime. "Maybe it's because I've been seeing him constantly, but being with Jae Hyun seems very comfortable to me," Kyuhyun said, referring to his previous statement that he had been in close contact with Ahn Jae Hyun since Jae Hyun and I catch up frequently."
Kyuhyun continued, "I always wondered, if we can give Ahn Jae Hyun a call" during meetings with the "New Journey to the West" production team. The show even aired a video of Kyuhyun saying, "I do feel sort of sad that it's just the three of us," during a "Spring Camp" gathering.
Ahn Jae Hyun said that he had a difficult time during his two-year hiatus. "You must still have a lot to worry about these days," he said, changing the focus to P.O. "You're going to join the military, which means you won't be around to do a lot of things."
"I'm grateful for all the love I've received, and I'm constantly amazed and happy," P.O answered. "Hyung, I can't believe this," he said, taking Ahn Jae Hyun's hand again and returning to the subject of the actor's return. This is amazing."
"Spring Camp" is a spin-off show of the variety series "New Journey To The West." The show airs exclusively on TVING.
© 2021 Korea Portal, All rights reserved. Do not reproduce without permission.