SMART Recruits Handsome Thai Superstars as New Endorsers After BTS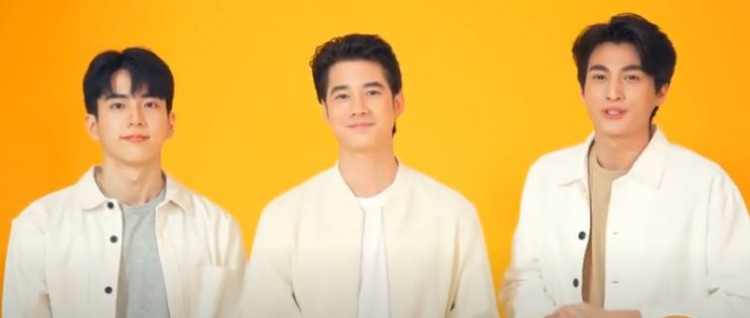 The K-Wave craze isn't over yet but comes the "Thai Invasion," which also makes Filipino fans go gaga. Smart is striking the iron while it's hot and recruits handsome Thai superstars for its next campaign.
Just recently, Smart released its "Live Your Passion with Purpose" last month with BTS as its endorsers. The Philippine telco won't just stop giving its subscribers the reason to be happy and satisfied with their service as it recruits handsome Thai superstars Mario Maurer, Nonkul Chanon, BL star Gulf Kanawut for its upcoming ads.
"Filipinos and Thais have always had mutual appreciation for each other's wealth of entertainment content, but we've seen this grow even bigger recently as more Filipinos enjoy easy access to streaming platforms and social media through TNT's value-packed promos," said Jane J. Basas, SVP and Head of Consumer Wireless Business at Smart.
Mario Maurer is probably the most popular Thai actor, having a vast fan base in the Philippines and all over Southeast Asia. He starred in the "Love of Siam" (2007) and "Crazy Little Thing Called Love" (2010). His blockbuster movie, "Pee Mak," reached $33 million in domestic and international receipts.
Nonkul Chanon starred in the movie "Bad Genius" (2017) and broke records in many Asian countries. Gulf Kanawut, on the other hand, became famous for "TharnType The Series," which is an adaptation of a favorite Thai web novel. Also, he appeared in different magazine covers in Thailand and likewise performed in concerts.
K-Wave is not the only one dominating the Southeast Asian scene when it comes to pop culture. Filipinos have started embracing Thai pop culture as well as the Japanese. The three hunks will join Philippine celebrities Suzi Ramirez and Sarah Geronimo-Giudicelli in TNT's (Talk and Text) "Kilig Saya" campaign.
TNT will host an exclusive TNT Idol Conference called "TNTCON 2021" that will feature the three Thai actors live on May 11.
© 2022 Korea Portal, All rights reserved. Do not reproduce without permission.