The Swoon Features The Cast Of 'Love Alarm' Playing Jenga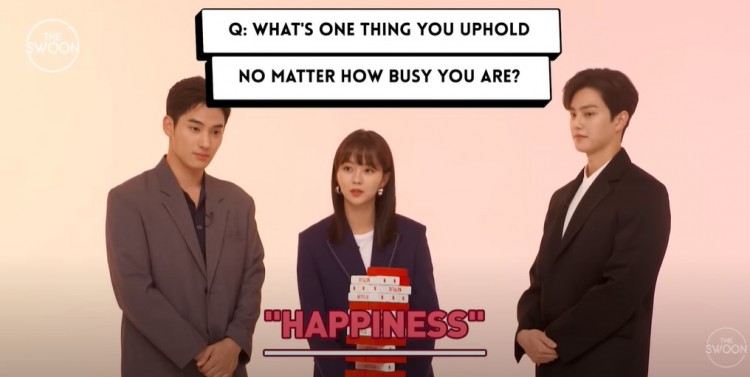 Popular YouTube page for K-Drama and Asian dramas "The Swoon" recently featured Kim So-hyun, Song Kang and Jung Ga-ram of "Love Alarm" to play "Jenga."
"There's no mercy when it comes to Jenga, especially when you're playing with friends! Kim So-hyun, Jung Ga-ram, and Song Kang make our love alarms ring with their swoony missions, and judging from their laughter, it's clear they enjoy it too-watching each other suffer from embarrassment, that is (emoji)," The Swoon posted in their caption on the YouTube video.
The cast of "Love Alarm" is looking so formal while playing the popular leisure game. Jenga is a game developed by Hasbro where players take turns removing one block at a time from a tower consisting of 54 blocks. They may also answer questions and do consequences.
Among the things they discussed were questions that include the app they wished existed in real-life, whether they believe in fate, selecting whether it is life as a drive or life in a palace, what their first impressions of their co-stars are, and so much more.
They also answered questions on how they see themselves in a decade, talked about happiness, and did consequences that included tossing pancakes.
The cast of "Love Alarm" played two rounds of Jenga. At the end of the first round, Kim So-hyun toppled the Jenga blocks. The cast then started playing again.
Kim So-hyun, Song Kang and Jung Ga-ram clearly had fun playing Jenga and getting featured on The Swoon. They even took photos after playing the game.
"Love Alarm" tells the story of a high school girl influenced by a mobile app capable of letting them know if people around them have romantic feelings toward them.
The Swoon is powered by Netflix, the streaming platform airing various shows, drama, movies, and more, to viewers worldwide. It is the all-access pass to the behind-the-scenes of K-Dramas and Asian dramas. They post snippers from previous episodes and also fun moments with the cast.
© 2023 Korea Portal, All rights reserved. Do not reproduce without permission.