Biden To Visit Asian-American Commmuinity in Atlanta After Racial Hate Related Killings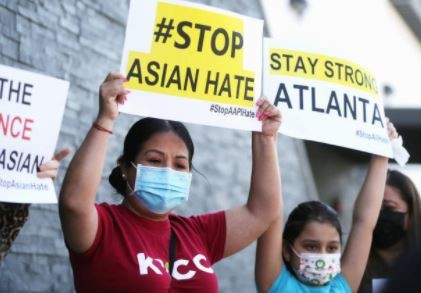 US President Joe Biden headed to Atlanta on Friday, March 19, to visit the grieving Asian-American community who are in fear after a hate crime-related incident left six women of Asian descent killed.
The president's pre-scheduled visit to the southern metropolis was primarily to focus on the administration's pandemic battle plan, visit the Centers for Disease Control and Prevention, and promote the economic stimulus package that was recently passed that aims to aid millions of Americans affected by the pandemic.
Jen Psaki, White House press secretary, said that President Biden, together with Vice President Kamala Harris, will hear the impact that the crime inflicted on the said community and for them to get a better perspective on the continuous rise of the hate crime incidents on Asians and Asian- Americans. The press secretary added that the president will deliver a speech at the Emory University and will take advantage of the visit to reassure citizens of his commitment to fighting "xenophobia, intolerance and hate."
On Tuesday, three massage parlors were targeted by a man, 21 years old, suspected of the said killings, and was arrested a few hours later.
The suspect named Robert Aaron Long now faces eight counts of murder and an aggravated assault charge. The suspect admitted the attacks, but law enforcement said that he claims that racial hatred is not the reason behind the assault. Officers said that the suspect told the police that he was suffering from sexual addiction, and he wanted to eliminate all the temptations that would put him in conflict against his strict religious belief.
Authorities had not yet confirmed the real motives of the said attacks, but the killings have been in the connection between sexism and racism issues in the country.
The attack was just added to the pile of hate-related crimes committed against Asians and Asian-Americans that had started to surge during the pandemic as many point out that the virus was started by the race.
The president had ordered flags at the White House and other public buildings to be at half-staff until Monday.
© 2023 Korea Portal, All rights reserved. Do not reproduce without permission.