What Do You Believe In?: Big Hit Entertainment Launches Futuristic New Campaign Film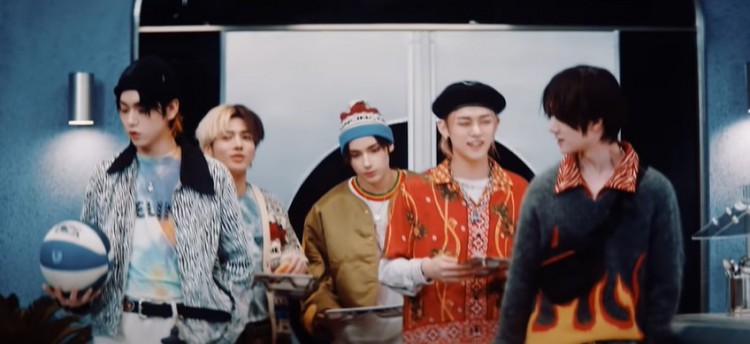 On Thursday, Big Hit Entertainment has launched its newest campaign film, futuristic-themed featuring video games, office settings, and more, with its biggest artists, NU'EST, BTS, GFriend, and so much more.
Titled "WHAT DO YOU BELIEVE IN?," each artist or K-Pop group representing a concept they believe in. It started with ENHYPEN rowing together to defeat a fictitious sea monster. They also win an arcade game and say they believe in "teamwork."
"Setting goals" is what SEVENTEEN believes in, which in the video shows Vernon not stopping until he shoots a crumpled paper in the trash bin.
The campaign film transitions to GFriend, saying they believe in themselves while showing each of their personal strengths.
NU'EST takes the viewers in an office setting, with the goal to make their co-worker, portrayed by Minhyun, smile. They believe in their smiles, they said, and the video showcases this with a smiley emoji.
BTS and TXT join forces in a coming video with HueningKai expressing his dismay over pizzas without pineapples. In the end, they are giving in to a pineapple-topped pizza, sharing the message they believe in "Pineapple Pizza."
When it was time to get serious, BTS reveals what they truly believe in, beyond pineapple pizzas, and that is, believing in "connection." They mention the words "communication," "love," "ARMY," and "teacher."
The campaign film ends by asking the viewers what they believe in.
Meanwhile, BTS is making Big Hit Entertainment even prouder as the Guinness World Records announces the K-Pop group for claiming the record of the "most simultaneous viewers for a music video on YouTube Premieres." The video "Dynamite" is now holding the title.
"@BTS_twt's record for the 'most simultaneous viewers for a music video on YouTube Premieres' has now been confirmed, with the 2020 single Dynamite clocking up over three million viewers," Guinness tweeted.
© 2023 Korea Portal, All rights reserved. Do not reproduce without permission.