From TAG Heuer To Breitling: Song Joong-ki Flaunts Luxury Watches In 'Vincenzo'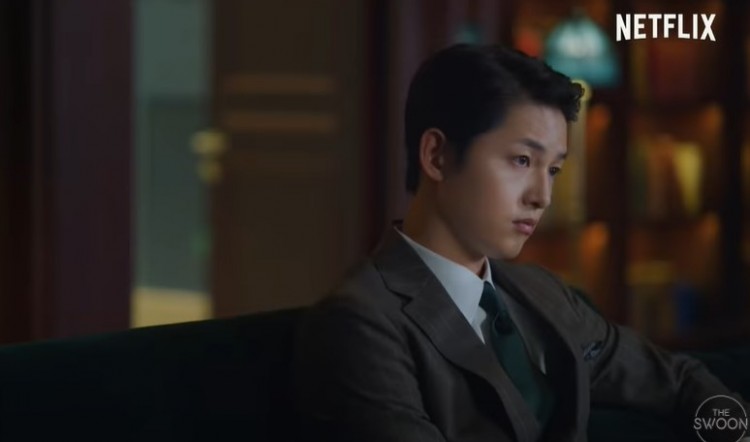 South China Morning Post has revealed details about the timepieces that Song Joong-ki and his character, Vincenzo Cassano, wears in the hit Korean drama.
There are several watches featured in the series, from contemporary to classic styles. The brands included Hublot, Zenith, TAG Heuer, Breitling, and so much more. He has previously worn Breitling in "Descendants of the Sun," the series where he co-starred with his ex-wife, Song Hye-kyo.
One of the stylish watches is the Zenith Chronomaster El Primero, known for its iconic multi-hued dial. It features a black leather strap. It was in 1969 when Zenith launched the El Primero, spearheading the integrated automatic chronograph revolution. Yet, it is Breitling that gets most screen time in "Vincenzo."
The Breitling spotted in the crime series is its Navitimer B01 Chronograph 46 offered in two-tone, with a gold bezel set against the bracelet and stainless steel case.
Song Joong-ki is also seen in funny yet awkward moments with his co-actor Kim Sung-cheol who both gets embarrassed when flirting at the camera on "Vincenzo." Korea Portal is right at the action.
The behind-the-scenes videos reveal the lighter moments in the production, including Yeo-bin Jeon attempting to find her right position to sleep and the crew making fun of her for "trying to look pretty while sleeping."
Song Joong-ki, during his spare time, would play soccer with children, while 2PM's Taecyeon impresses the staff with his life hacks. Taecyeon and Kwak Dong-Yeon also play table football, with Taecyeon getting competitive. He said, "I feel like people who are really good at this can move the handles really fast."
Kim Sung-cheol is in for his special appearance in "Vincenzo." The actor, who has also starred with Song Joong-ki in "Arthdal Chronicles" on tvN, plays bank CEO Hwang Min Sung who Song Joong-ki's character, Vincenzo Cassano, tries to lure in order to derail the bank deals of their villain, the Babel Group.
© 2022 Korea Portal, All rights reserved. Do not reproduce without permission.