BLACKPINK Jennie Is The Newest Model For Vita500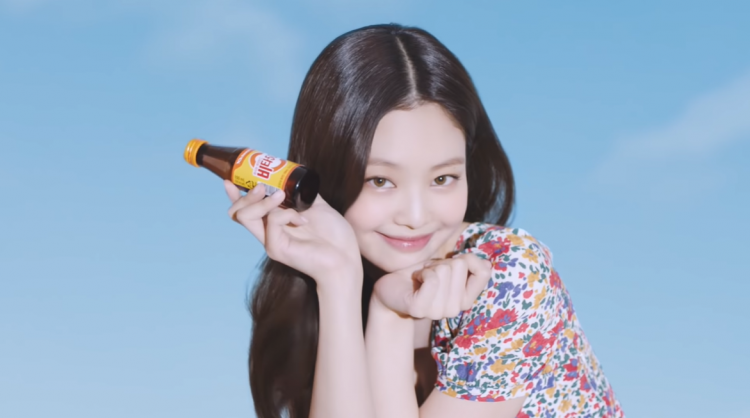 BLACKPINK Jennie Is The New CF Queen
In a 15-second clip posted on Vita500 Official YouTube Channel, BLACKPINK member and rapper Jennie Kim was introduced as the newest model for the vitamin drink. The short clip shows the refreshing visuals of the idol as well as her bubbly personality. Her sweet smile in this latest Vita500 promotional video was just addicting and cute.
Before Jennie, former MissA member and actress Suzy was the model for the vitamin drink brand for her fresh and innocent image.
Meanwhile, aside from the Vita500 deal, the BLACKPINK rapper and "SOLO" singer is also the current brand ambassador for Chum Churum Soju, Chanel Korea Samsung and many others, making K-netizens dub her as the new CF queen!
K-netizen's Reaction To Jennie's New CF
Since the release of Jennie's newest promotional ad for Vita500, Korean netizens are praising the idol for her cuteness and refreshing visuals.
Here are some of the K-net'z comments:
"Wow she has a lot of CFs"
"Jennie is so pretty ㅠㅜㅠㅠㅠ"
"Jennie is so cute ㅠㅠ So refreshingㅋㅋㅋ"
"Jennie's smile is refreshing so she's suitable for Vita500ㅋㅋㅋ"
"Really fresh and pretty"
"When Jennie does something, there is something that makes it more luxurious..? That's why brands use her as a model"
"Wow she's so cute. It suits her so well"
However, some fans pointed out that it would be better if the brand used Jennie's voice for the tagline that says: "Just because the world stopped, doesn't mean I did too. The strength to start everything actively, from healthy vitamin C that refreshes daily life."
"It's not Jennie's voice, right? I'm not a fan, so I was confused"
"As if the narrative voice was better than Jennie's, so what was the reason for doing that?"
"It would have been better if it was Jennie's voice"
Congratulations to Jennie!
© 2021 Korea Portal, All rights reserved. Do not reproduce without permission.