BTS Almost Ready For Their 'MTV Unplugged' Presentation, Looks Royalty On The Teaser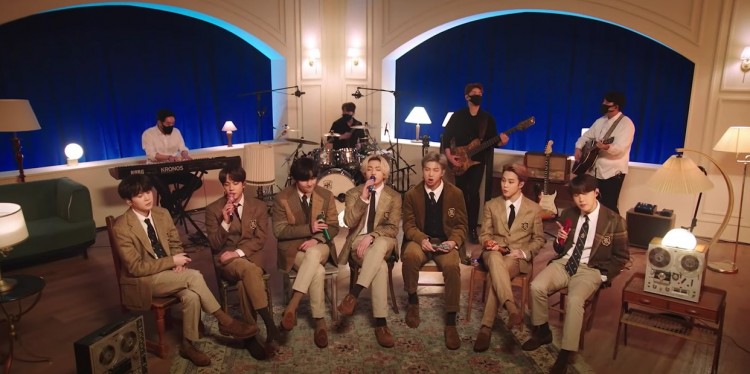 Are the ARMYs ready? BTS is getting ready for their "MTV Unplugged" episode tomorrow, February 23rd. They provided a teaser for the fans, featuring the artists Jungkook, Jimin, Suga, Kim Taehyung, Jin, J-Hope, and RM looking like royalties.
Last Saturday, the Bangtan Boys released a preview of their "MTV Unplugged" episode posted on MTV's official YouTube, showing the singers singing their "Life Goes On" a track from their album, "BE."
BTS has been announced to take part in the upcoming episode of "MTV Unplugged," joining the likes of other prominent artists featured on the show, that include Elton John, Paul McCartney, Bruce Springsteen, Mariah Carey, Shakira, Shawn Mendes, and so much more.
They are wearing a variety of university-inspired and formal suits and ties in colors such as Earth tones, seated with vintage music setup at blue and pink set design. The video teaser already has almost a million views as of writing.
"I didn't know how much I needed an unplugged 'Life Goes On' performance," BTS BEING BTS posted on the YouTube teaser.
The ARMY can be able to see their performance and more on the special "MTV Unplugged" episode launching at 9 p.m. Eastern Standard Time. The music network will also feature never-before-seen versions of the BTS singers in intimate settings.
In other news, their entertainment management Big Hit Entertainment also unveiled seven new videos of BTS singing their "Life Goes On" single on the official YouTube page. It is a unique presentation featuring the members singing the track on video calls.
"The special promises to bring fans a new look at the group's latest album, Be, which dropped in November. It boasted the No. 1 singles 'Life Goes On' and 'Dynamite' - the latter of which RM hoped could 'be your energy,' as he told MTV News in August ahead of the VMAs," MTV said in its official statement.
© 2022 Korea Portal, All rights reserved. Do not reproduce without permission.