Former JYP Trainee Minyoung Breaks Silence, Shares Struggles After Failed TWICE Debut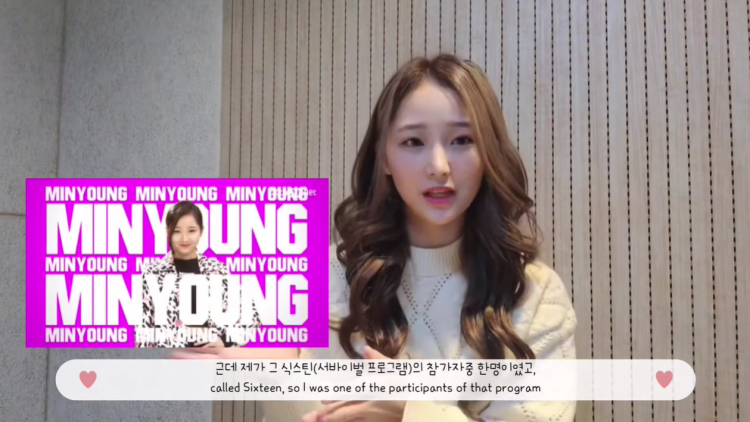 Former JYP Entertainment trainee and SIXTEEN contestant Minyoung breaks her six-year silence after failing to debut with TWICE.
"6 years have passed and I finally came back! 6 years is a period of time I spent as a trainee. I've rested as much as the amount of time I spent as a trainee!" expressed Minyoung.
Minyoung's failed debut
Minyoung is a former JYP Entertainment trainee who trained alongside TWICE members Jihyo, Nayeon and Jeongyeon. Together with the three TWICE members mentioned and two either JYP trainees, Cecilia and Lena, Minyoung was supposed to debut as a member of 6mix.
For some reason, the 6mix debut was canceled, and Cecilia and Lena left the company. Because of this, JYP decided to hold a survival show in order to choose who among the remaining trainees will debut under their newest girl group. Together with 15 other trainees, Minyoung participated in "Sixteen," however, luck wasn't on her side and long story short, she failed to debut with TWICE who has become a K-Pop household name since then.
"After the program, I went through such a hard time, but now that I can smile and talk about it. There were so many chances for me to debut since I was in middle school, but those kept failing and failing, and that kept on repeating until my senior year.
But back then, I was already worn out by so many failed debuts, and it was a time that I couldn't get myself together. But the company said that they were progressing with the survival program. I forced myself to participate in the program because I had no other choice. So in the program, I always looked depressed, unhappy...All the bad parts of me were shown in the program.
Even now, when I look at myself shown through the program, it makes me feel sad," shared Minyoung.
Updates about Minyoung
Right after the ending of "SIXTEEN," Minyoung had gone under the radar and nothing was heard from her for the past six years. In her recent YouTube video, Minyoung revealed that she was on the verge of giving up on music after her many failed attempts to debut. But she grew stronger from her experiences and is currently working at an international school while making music as a hobby.
"After the program ended, I almost gave up on music. I didn't want to sing, didn't want to do music anymore. So I stopped doing music for years... But at last, it came back to me again! Since I was in elementary and till my senior year, I always pursued this one certain goal of mine. But they all collapsed all at once, and so my mental collapsed too, so I needed to get myself back together too.
So while resting, I spent my time studying English; I took music lessons, and I tried many different kinds of jobs...and that kind of helped me to get through and overcome [everything].
And now, I've gotten so much better, and am working at an international school. I'm still doing music as my hobby. So while working, I want to do YouTube and sing; that's what I'm planning to do!" shared Minyoung.
You can watch her video sharing her K-Pop journey here.
© 2023 Korea Portal, All rights reserved. Do not reproduce without permission.