New K-Pop Group KINGDOM Takes Inspiration From King Arthur's Excalibur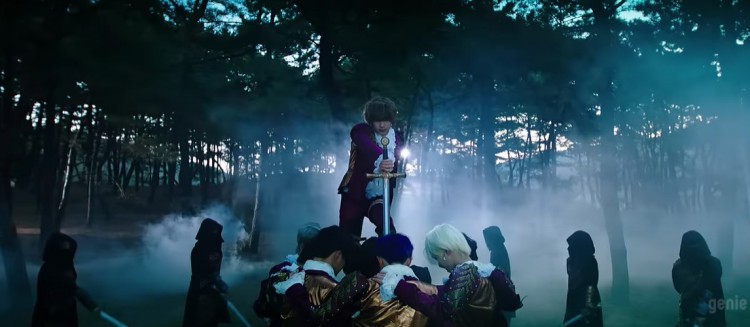 No, this is not the Korean boy band that the partnership between Big Hit Entertainment, the company that manages BTS, and Universal Music Group is launching, but KINGDOM is the newest seven-member K-Pop boy group that debuted today, saying BTS is their role model.
"We look up to BTS, which has influenced us so much," KINGDOM said in its official statement.
Aside from taking inspiration from Korean entertainment's biggest stars, KINGDOM also takes the cue from Medieval literature, particularly the fifth-century story of "King Arthur," the reason why they call themselves "legendary."
KINGDOM comprises seven singers, namely Dann, Arthur, Louis, Mujin, Ivan, Jahan, and Chiwoo, also signifying Medieval history's "Seven Kings of the Seven Kingdoms." They also unveiled their lead single "Excalibur," the name of the mythical sword King Arthur pulled from rock to prove his worth. News outlet Korea JoongAng Daily is saying this also revolves around the theme of the band that will "bear the weight of its crown and grow to prove its infinite potential." YG Entertainment's BLACKPINK likewise features a crown in the K-Pop group's "The Album."
Their mini-album is titled "History of Kingdom: Part 1. Arthur."
Today, KINGDOM has also released their music video for "Excalibur," following the theme of Medieval history, with the singers wearing a blend of Korean fashion and Medieval style, carrying swords to capture the personalities who lived in those years.
King Arthur was a historical personality who lived in the Medieval ages. He was a legendary British leader who has been known for defending Britain against Saxon invaders in the late 5th and early 6th centuries.
"We hope that the name Kingdom becomes well-known. We want to be recognized as a 'unique rookie band.' We promise to show you everything we have so that people will deem us worthy of keeping track of," KINGDOM also stated.
© 2023 Korea Portal, All rights reserved. Do not reproduce without permission.