Fans of BLACKPINK'S Rosé Angered Over OT3 Stans, Trends #RespectOurROSÉ on Twitter
With over 72,000 tweets and counting, fans of Rosé took to Twitter to trend #RespectOurROSÉ as they got angry about a malicious account intended to neglect the main vocalist of BLACKPINK and focus only on the other three members.
Today the hashtag took the micro-blogging platform by storm as support from BLINK and fans of Rosé poured into defending the KPop star from haters. One particular popular hater was the account called bellapoarchfanpage82 or better known as @blackpink without rose on TikTok. Visiting this account, you can see videos of Rosé being cut from the pictures posted and even encouraged viewers to For the fans of the talented artist. It was a direct disrespect and disregard of her contribution to her group, BLACKPINK.
Many Twitter users contributed to the hashtag and asked people to mass report the TikTok accounts. They invite everyone to refrain from engaging with the videos and report them.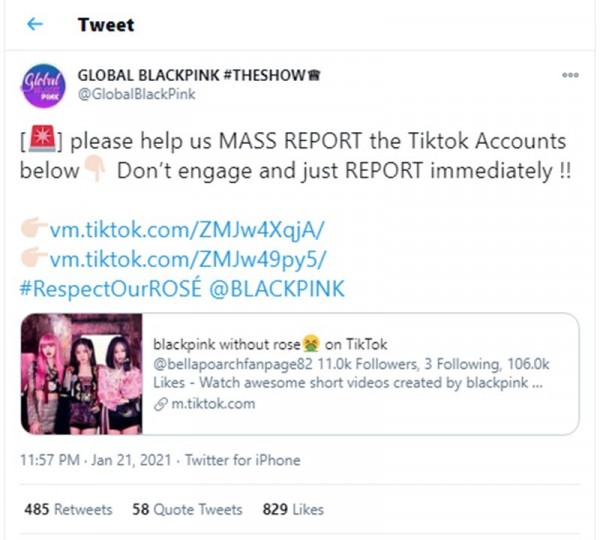 One fan defended Rosé by saying how sweet and pure her heart is. And if someone hates one of the BLACKPINK members, then they need to be quiet. The fan ended her tweet by saying that idols are human too.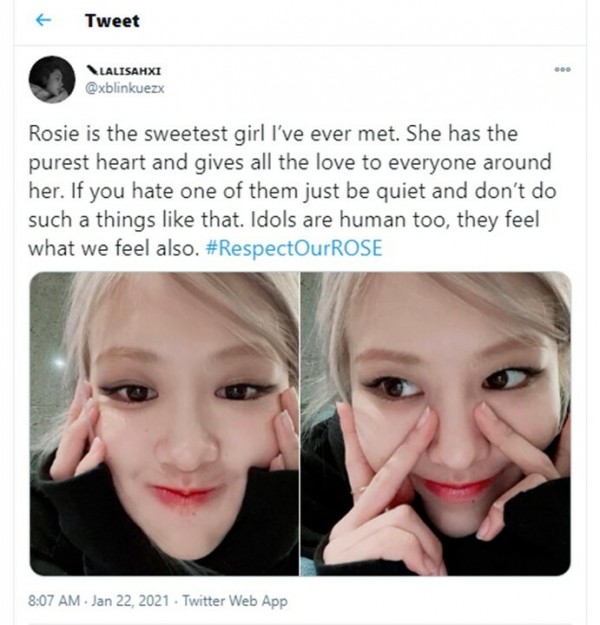 Another fan posted a screenshot of another fan's elaborate comments claiming all the good things Rosé did in the past that was never broadcasted in public. Paying for a child's cleft lip surgery, donating in Australia wildfire, and visiting shelters of abandoned animals were present in the comment. Moreover, when she sent a coffee truck to Girl's Day's Hyeri while filming, comforted Red Velvet's Yeri and Joy, and wore a dress at the BLACKPINK's Summer Diary 2020 that was a gift from a fan were also included.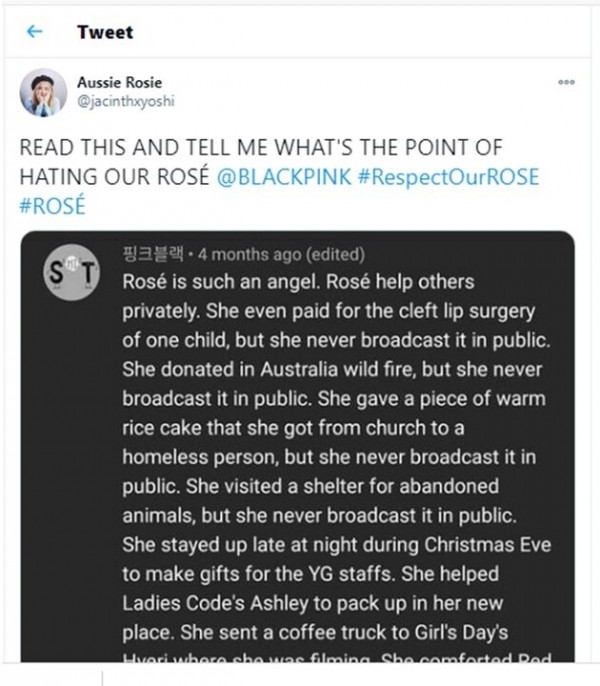 Rosé debuted with Jisoo, Jennie, and Lisa last 2016. They are part of the famous KPop group BLACKPINK who recently released their first full studio album entitled "The Album." She and her co-member, Lisa, are gearing up for their solo debut this year, which fans have anticipated for years.
© 2023 Korea Portal, All rights reserved. Do not reproduce without permission.