Jennifer Lopez Wore Her Own Brand, JLo Beauty At President Joe Biden's Inauguration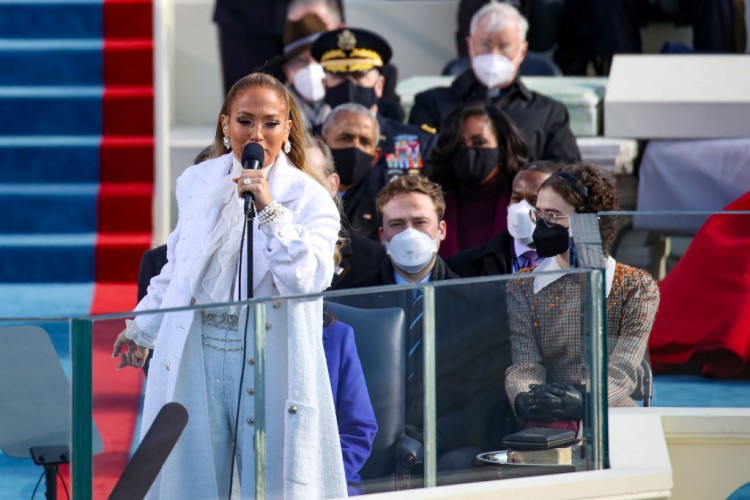 Jennifer Lopez, 51 sang a medley of patriotic songs with her own hit "Let's Get Loud" at the inauguration of President Joe Biden on Wednesday. Just a few weeks after she graced the 2021 Dick Clark's New Year's Rockin' Eve celebrations, she was invited again for a countrywide event.
If you are wondering what her white ensemble is about during her singing performance, Jennifer Lopez wore Chanel all over, including a curve-hugging, Swarovski-filled ruffled silk blouse, floor-length tweed coat, Chanel pearl earrings, pearl bracelets, pearl belt, and sequined wide-leg pants, among others.
Her fashion is part of it all, but what about the beauty of her skin? That was also noticeable during her appearance. Her skin was glowing. You also know she unveiled her own beauty skincare line, JLo Beauty, in the first weeks of the New Year. Everybody is wondering, did she wear JLo Beauty? She did.
In her official Instagram posts, the "Live It Up" singer posted a close-up shot of her face glammed up and hashtagged her beauty line, JLo Beauty. Her brand sells skincare products like serums, moisturizers, eye creams, cleansers, and so much more.
Her fans are loving her look. On Twitter, @gmazurTT said, "Let it be known that, in the year of our Lord 2021, BOTH women who sang at the Inauguration wore products from their respective beauty brands (emojis) @ladygaga @JLo @hauslabs @jlobeauty"
The official Instagram account of JLo Beauty was also in full support of the singer. They have been commenting on her inauguration posts. In one of her posts, the skincare brand replied with the hashtag "Limitless."
JLo Beauty also responded with sparkling emojis on her post that featured her lover, Alex Rodriguez. The interaction of the singer and her brand after the inauguration on social media has been garnering several likes from the followers.
© 2023 Korea Portal, All rights reserved. Do not reproduce without permission.