US Vice President Kamala Harris Is A BTS ARMY, Fans Ecstatic With The Discovery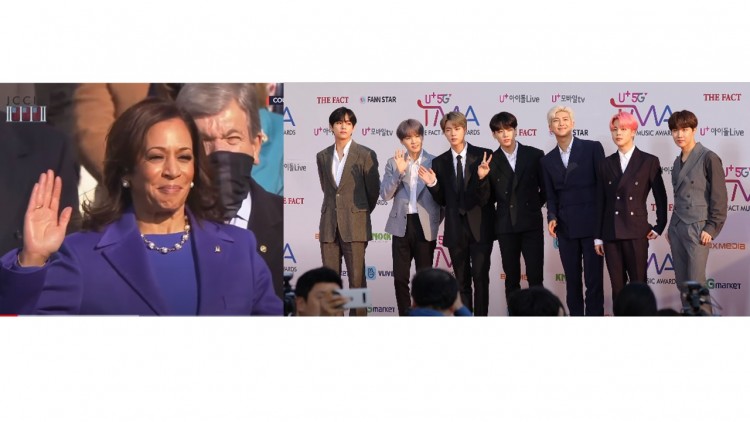 Fans had a double celebration today as Kamala Harris became the 49th Vice President of the United States, plus the discovery that she's a BTS ARMY too.
People can't help but get thrilled on learning that she was following BTS on Twitter and includes "Boy With Luv" in her Spotify summer playlist. The eagle-eyes of BTS fans are genuinely phenomenal as they became aware that the newly elected vice president is one of their own.
Twitter users posted screenshots of Vice President's Kamala Harris' where @BTS_twt, BTS' official Twitter account, can be seen on her following tab. Meanwhile, this prompted the ARMYs to look on her summer playlist, and true enough, it features BTS hit track "Boy With Luv."
Some fans gave their thoughts on this delightful news via Twitter. One fan wants to know who is Madam Vice President's bias among the seven boys. Another fan wonders whether she will invite BTS to the white house for a performance. Every fan agreed that BTS is a legendary group having touch all types of people from all walks of life.
"Imagine youre ticketing for a BTS concert, and u find out Kamala harris gets soundcheck instead of you," another ARMY posted on Twitter.
This is not the first time a US office has been known to be a K-Pop fan. Early on, former US President Barack Obama and his daughter Malia are big SHINee fans.
BTS ARMYs and the general K-Pop fans are always excited when revered figures support groups beyond the US markets as this means they support unity that crosses language and cultural barriers.
Vice president Kamala Harris was sworn in on her new position at Joe Biden's presidential inauguration today. The newly elected vice president is the first Black woman and the first woman of South Asian (Indian) descent to hold a high position in the US government.
© 2023 Korea Portal, All rights reserved. Do not reproduce without permission.