What Twitter Is Saying About Lady Gaga At The Inauguration Of President Joe Biden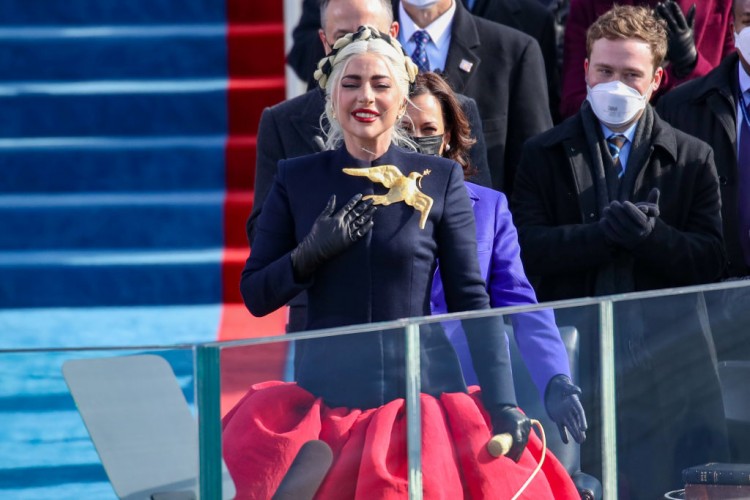 Lady Gaga belted out her own version of "The Star-Spangled Banner" at the inauguration of President Joe Biden on Wednesday wearing a dress Billboard characterized as a "Hunger Games" outfit.
President Joe Biden and Vice-President Kamala Harris were sworn into office in the U.S. Capitol with the attendance of their allies in the political sphere, Democrat personalities, former vice-president Mike Pence who served in the Donald Trump administration, and former Democrat President Barack Obama with his wife, Michelle Obama. Trump chose not to attend the inauguration.
"Congratulations to my friend, President @JoeBiden! This is your time," Barack Obama tweeted.
Lady Gaga took the limelight and opted to wear a theatrical outfit. According to Town and Country, the pop singer wore a custom Schiaparelli haute couture design ensemble that features a fitted navy cashmere jacket with a voluminous washed faille skirt of red silk.
She sported a braid with a red flower tucked at the back. Yet, what was noticeable was the giant golden dove-shaped brooch on her black outfit.
Lady Gaga officially revealed what the brooch is about, tweeting, "A dove carrying an olive branch. May we all make peace with each other."
After all, she was not trying to seek inspiration from the "Hunger Games'" Mockingjay.
Prior to her performance, at the rehearsals, the singer wore a white ensemble, Givenchy by Matthew Williams.
What Twitter is saying about Lady Gaga
Twitter was abuzz about her outfit. New York Times bestselling writer and netizen @dyllyp tweeted, "Why'd Lady Gaga show up to the Inauguration Party dressed like she's kicking off the Hunger Games?"
"Lady Gaga looking like a queen about to get crowned at the Capitol today at Biden's #Inauguration," wrote @gaganotify on Twitter.
Special inauguration presentation
Fireworks lit up the skies as Katy Perry sang one of her hit songs at "Celebrating America," the special presentation on the day of President Joe Biden and Vice-President Kamala Harris' inauguration.
There were musical selections, performances, video montages, and so much more, featuring artists including Justin Timberlake, John Legend, and Demi Lovato.
© 2022 Korea Portal, All rights reserved. Do not reproduce without permission.