ICYMI: Filipino Band Mayonnaise Drops New Song Entitled 'Park Chaeyoung,' Gets Noticed By BLACKPINK's Rosé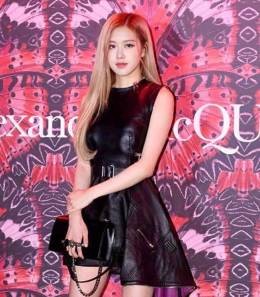 The title is literally the real name of the K-Pop artist. Monty Macalino, frontman of the band, shared that he found comfort and healing in her when he experienced a serious medical condition.
The song was released last month and already garnered attention not only to Blinks, the fandom name of BLACKPINK, but also to the Korean media. It was featured on Seoul Broadcasting System (SBS) show "Morning Wide" and other Korean news channels.
"Park Chaeyoung feature in SBS Morning News #MayonnaiseFirstWin," the band wrote on its official Facebook page on January 7, where they shared a clip from the South Korean show that talked about their song. It's a feat that the band described as their "first win."
Meanwhile, Rosé expressed her surprise at the song in a live video chat. Mayonnaise shared an audio clip of the K-Pop artist last January 11, where she talked about listening to the said song and knowing it from the news.
The Inspiration Behind "Park Chaeyoung"
Monty Macalino's inspiration for the song came when he discovered a life-threatening disease in his veins. According to him, he got the scare of his life when he thought he'd need to be amputated and will end his musical career.
"I was really depressed at that time. For some reason, after I got out of the hospital after ten days, I was out of it. I was panicking. I thought I was going to relapse." He revealed that he browsed through BLACKPINK Rosé's photos on social media and was hit by the lyrics' inspiration when he was going through his health problems.
He also claimed that he was not using BLACKPINK to gain popularity for his song or band. Macalino only wanted to show his appreciation for her as he is also a Blink. Mayonnaise performed "Park Chaeyoung" together with artists Chino David and Julia Daniel. It is part of Mayonnaise's eighth studio album called "Family and Friends."
© 2023 Korea Portal, All rights reserved. Do not reproduce without permission.