GM Teases With Flying Cadillac Concept At CES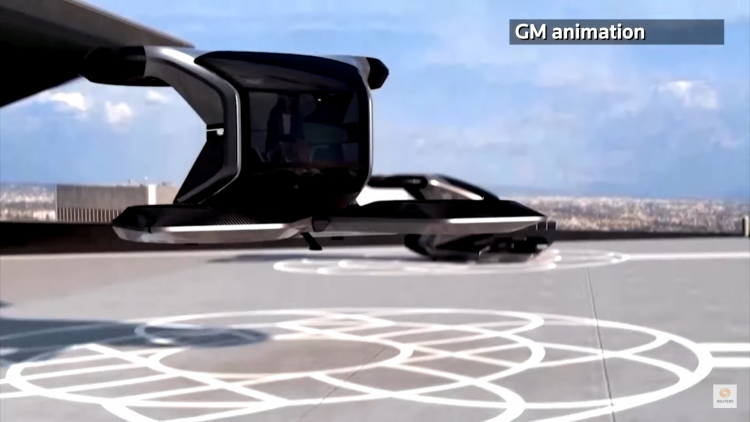 General Motors Co (GM) unveiled a futuristic flying Cadillac during their keynote address yesterday, Jan. 12, during the virtual Consumer Electronics Show (CES) 2021.
The single-seater Cadillac is a self-driving, electronic vertical takeoff and landing (eVTOL) drone which can travel from across rooftops at the speed of up to 55 miles per hour.
Meanwhile, GM Vice President for Global Design Michael Simcoe stated that the Cadillac eVTOL aircraft would be utilizing a 90kWh electric motor for the usage of four rotors responsible for vertical takeoff and landing. It also has a GM Ultium battery pack and an ultra-lightweight body.
The vehicle was presented in a video by GM Chief Executive Mary Barra and was described as "reimagining the future of personal transportation."
Simcoe added that the flying Cadillac is meant for rapid travel, and its design is in preparation for "a time when personal flying technology is possible."
In addition to the flying Cadillac concept, GM has also come up with a luxury autonomous vehicle (AV) which showcases a vertical light signature, wraparound lounge-like seating, and biometric sensors to read passengers' vital signs. The data obtained will then be used to adjust the temperature, lighting, ambient noise, and aromatic settings.
Furthermore, the AV has fore and aft sliding doors as well as a panoramic glass roof. Its boxy façade is reminiscent of a Cruise Origin, which was also designed by Simcoe's team.
Other features include voice control and gesture recognition for easier adjustments. Simcoe emphasized that the AV was designed as "a social space for a group of friends or family to spend time together on their way to a destination."
In the video, GM revealed that the Cadillac's AV would be arriving soon. On the other hand, the company has yet to announce if they will push through with a commercialized version of the flying Cadillac.
GM has refused to share further information on both products.
© 2021 Korea Portal, All rights reserved. Do not reproduce without permission.