China Unveils Bullet Train That Operates In Extremely Low Temperatures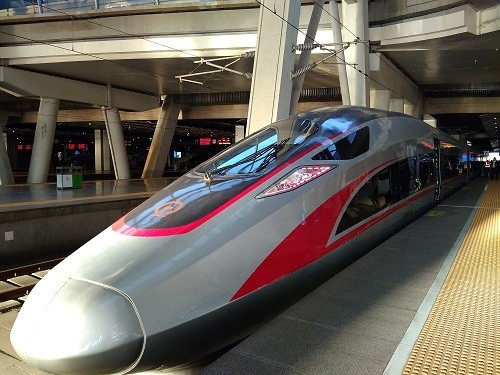 China debuts a new high-speed bullet train called CR400AF-G train that can work in exceedingly cold climates with a speed of up to 350 kilometers per hour (217 mph) in temperatures as low as -40 degrees Celsius (-40 degrees Fahrenheit). The project is part of the state-owned China State Railway Group's Fuxing series of high-speed electric multiple-unit (EMU) trains.
Although there is no official date of operations, Beijing was set to have a first-hand experience with the high-speed bullet train as it rolled out on the city last January 6. It is set to run on a new line connecting the Chinese capital with northeastern destinations, including cities Shenyang and Harbin. The train is expected to handle even the coldest climate.
A subsidiary of China State Railway Group Company, China Railway Beijing Group, updated their WeChat, a Chinese social media site, with a post that features the high-speed bullet train's new upgrades. These include bolts made with chromium-molybdenum alloy, silicone sealing strips, temperature-resistant brake control devices, and stainless-steel pipes equipped with heating devices. All of the mentioned optimized components have the ability to endure low temperatures and prevent snow and ice from damaging the train.
Moreover, the largest high-speed rail network belongs to China, covering an impressive 37,000 kilometers. It also houses the Shanghai maglev, which is the fastest commercially operating train. With a speed of 431 kph, it connects Shanghai Pudong Airport and Longyang Road in east Shanghai.
Last year, China also debuted a new 174-kilometer high-speed railway line, which gives an impression as part of the 2022 Winter Olympics as it connects Beijing with the host city, Zhangjiakou. It cuts the two to three hours travel time to 47 minutes.
China isn't the only one with bullet trains known in Asia as Japan also launched its high-speed train called N700S, which can run up to 360 kilometers per hour. Both China and Japan lead in bullet trains in the continent.
© 2021 Korea Portal, All rights reserved. Do not reproduce without permission.