Critics, Fans Slam BTS' Stylists Over 'Ill-Fitting Outfits' At The 2021 Golden Disc Awards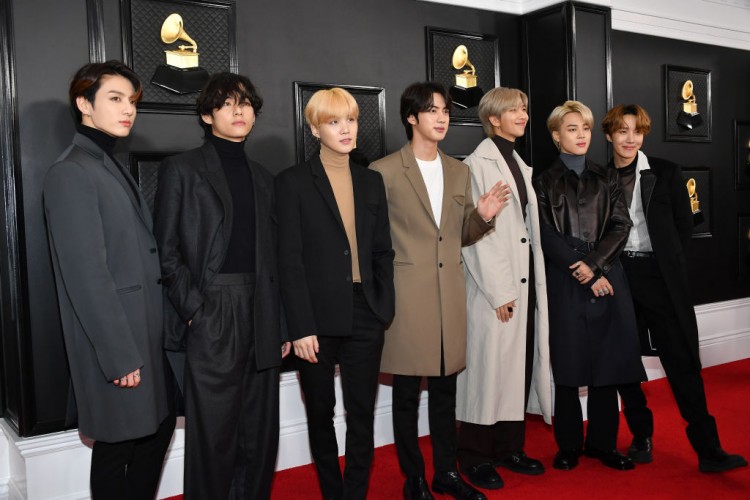 The stylists of K-Pop singing sensation BTS are under fire and criticism from netizens and critics over what they pointed out as "ill-fitting" outfits of the group at the recently held Golden Disc Awards 2021.
At the 35th Golden Disc Awards, BTS was among those the fans highly anticipated to make a scene on the red carpet and at the show. They did, and the BTS members -- V, Jungkook, Jimin, Suga, Jin, RM, and J-Hope -- showcased their looks with coats, long coats, trousers, polos, ties, and more in the colors such as black, blue, and navy blue, among many others. Jungkook even flaunted his new hairdo, which he colored blonde.
However, not everyone was happy with their styles on the red carpet. This is why there have been netizens, fans, and critics who slammed the stylists of the K-Pop boy band for wearing outfits that do not fit them well.
There were those who pointed out "oversized clothes," and those who wished they bring back the skinny pants as these BTS singers have "pretty legs" and they will stand out more with skinny pants, according to those who criticized what they wore during the event.
"They will stand out more on stage with skinny pants, but the stylist is ruining everyday lately," one of them stated.
The netizens and the critics also noted how the stylists are "careless" with their options and always sticking to a monotonous pattern.
"Looks like they took the collection just as is and that they are just sticking to one repertoire. Cardigan for RM, coat for V, knit for J-Hope, jacket for Jungkook and Jin. It's always like this every single time," they said.
This is not the first time the stylists of BTS were criticized. They also received backlash for the appearance of BTS at the 2020 Melon Music Awards. The fans also did not like the styling of BTS during their performance after being hailed TIME magazine's "Entertainer of the Year."
Do you like their styling at the 2021 Golden Disc Awards?
© 2022 Korea Portal, All rights reserved. Do not reproduce without permission.