Sandara Park Spotted At SM Entertainment With Red Velvet's Yeri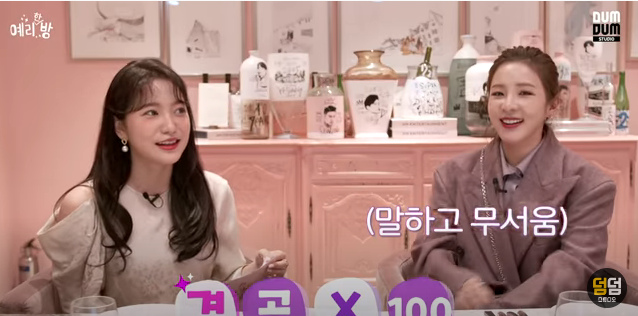 In the latest episode of Red Velvet's Yeri's show 'Yeri's Room,' she invited the former member of 2NE1, Sandara Park!
Yeri and Dara went on a shopping tour inside SM Entertainment's store, with Yeri serving as a tour guide. Dara bought a lot of EXO and Super Junior merchandise for her overseas friends and bought some Red Velvet merchandise for herself.
After shopping, Yeri took Dara to SM Entertainment's "pink room" cafe and album room to sit down and talk more. Before doing so, Dara excitedly bought some Red Velvet macaroons in the cafe.
Meanwhile, Yeri confided that she purposely reserved the pretty cafe for Dara and hilariously added that they just met for the first time today. Still, they did not greet each other properly and went shopping right away.
Dara replied, "You can't show me things to buy because I'd go on a shopping craze." Dara then talked about how she was nicknamed "Sanda-rain."
Apparently, Dara's nickname was based on how she "makes it rain" when she goes on a shopping spree. The number of bags from her shopping tour with Yeri was proof of it.
During the talk, Dara revealed that it was her first time to visit SM Entertainment since she had always felt like she was not allowed inside. Dara playfully added that she feels like she's inside the "enemy's base."
Yeri chided that she feels the same when she passes by YG Entertainment and hope Dara can also invite her next time and give her a tour of YG's building.
When asked to compare SM Entertainment and YG Entertainment's building, Dara answered it was the color scheme. While SM Entertainment was bright and pink, YG was more on black or white.
As for Dara's overall impression, she claimed to be impressed with everything. "It's like I'm at the Land of Hopes and Dreams. The merch shop is so nice."
Meanwhile, more of Yeri and Dara's time together will be revealed on the next episode of 'Yeri's Room' on Wednesday, December 9.
Stay tuned!
© 2023 Korea Portal, All rights reserved. Do not reproduce without permission.