'Arthdal Chronicles' Episodes 7 & 8 Spoilers: Saya Shows His Face To Tanya Who Grieves Eun Seom's Death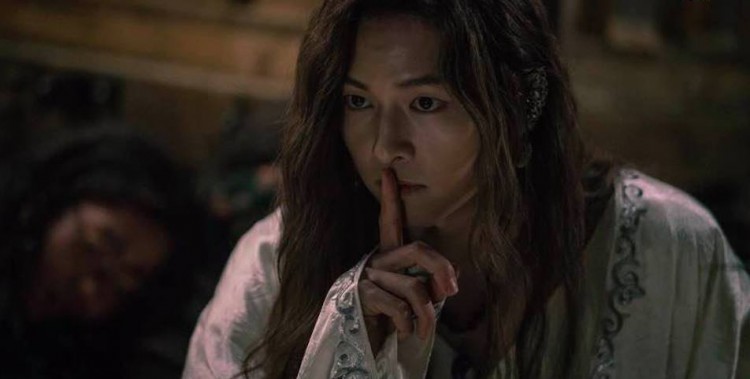 Tanya will finally meet Eun Seom's twin brother, Saya, in the upcoming Arthdal Chronicles Episode 7 and 8. However, it looks like she will be losing his first love, Eun Seom.
In the previous episode, Tanya and her people escaped from their captors but she got separated from her father and tribemates. She ended up in one of the towers of the Fortress of Fire, where Saya (Song Joong Ki) is hiding.
It looks like Tanya will end up hiding in Saya's place and they will eventually become friends. While staying with Saya, Tanya will look for answers as to why one of the twins end up in the lark while the other is at the Fortress of Fire.
Elsewhere, Mihol (Jo Sung Ha) orders Taelha (Kim Ok Vin) to remain close to Tagon (Jang Dong Gun) while he stays in Asa Ron's (Lee Do Kyung) side. However, it looks like Taelha will voice her objection about her father's wishes.
In the trailer for Episode 7, Taelha is seen standing up against her father. She tells him that she is the only one who can decide about her future and who will become king of Arthdal. She also warns her father that she will make Tagon the king.
Meanwhile, Tagon will try to deceive his people once again. The teaser for the upcoming episode shows Tagon's soldiers making a public announcement that they have captured the man who murdered Sanung (Kim Eui Sung). One of the soldiers is seen dragging a man behind a horse.
Then, Tagon is seen ordering the execution of the man. It is not clear whether or not Eun Seom (Song Joong Ki) is the man that will be executed. It can be recalled that Chae Eun is the only person in Arthdal knew Eun Seom's face.
But based on Chae Eun's reaction while watching the execution, the person who was sentenced to die could be someone close to him. Additionally, Saya will also tell Tanya that Eun Seom is already dead.
Here's a quick recap of the previous episodes of Arhtdal Chronicles. Tagon killed his father, Sanung (Kim Eui Sung) and framed Eun Seom for the murder. Eun Seom, on the other hand, found that Tagon is Ugutu like him. This means the hero of Arthdal is half human, and half Neanthal and nobody in city knows that except for Eun Seom, Sanung, and Taelha.
Eun Seom thought of blackmailing Tagon so he can keep the Wahan people away from harm. Tagon and Eun Seom made an agreement but the Wahan people were later taken away from Asa Ron and Mihol.
Arhtdal Chronicles airs Saturdays and Sundays at 9 p.m. KST on tvN. Brand new episodes will air on June 22 and 23. The K-drama is also available via Netflix.
© 2021 Korea Portal, All rights reserved. Do not reproduce without permission.