Song Joong Ki's 'Asadal Chronicles' Reveals Premiere Date In June & How Stories Will Unfold In Multiple Parts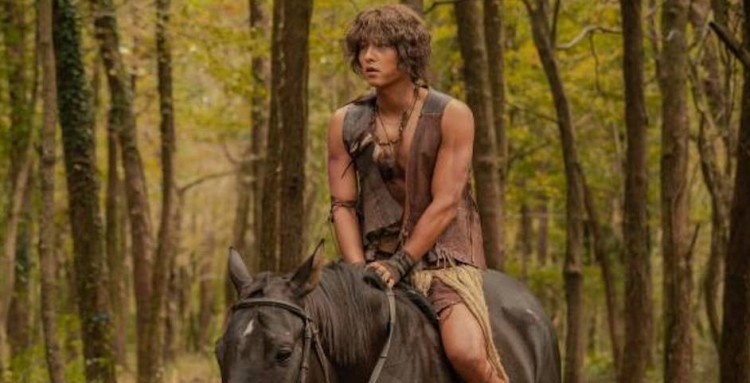 Korean TV network tvN has confirmed the premiere date for the much-anticipated K-drama Asadal Chronicles and also revealed more details about it. It was revealed that the Song Joong Ki-led series will kick off on June 1 and the story will be told in multiple parts.
The Korean network made the announcement along with the release of the K-drama's official poster. The promo material features a mysterious woman in a white cloak standing at the edge of a cliff while looking over the ancient city. The phrase "The beginning of all legends of the world," can be seen written at the center of the poster.
Asadal Chronicles is set in a mythical city of Asadal, the capital city of the Gojoseon kingdom. The series tells the stories of love, conflict, and harmony between the heroes who create legends of their land.
The drama is scheduled to air in three parts and was divided according to the different periods in the story. The first part is titled, "The Children of Prophecy." The second part is "The Sky Turning Inside Out, Rising Land" while the last past is "Arth, The Prelude to All Legends."
The first two parts will have six episodes a piece and will be focused on telling the stories of the characters to understand the drama. According to the production team, the turning point of the main characters will unfold in the third part.
The main characters include Eun Seom (Song Joong Ki), who is described as a soft-hearted man but he could be aggressive when it comes to protecting his tribe from its enemies. He will later become the conqueror of Asadal. Suits actor Jang Dong Gun plays the role of Ta Gon, who is the son of the leader of Saenyeok Tribe. He is charismatic and talented but also dangerous.
Descendants Of The Sun actress Kim Ji Won portrays Tan Ya, the successor of Wahan Tribe who realizes her destiny to lead and protect her own people. Kim Ok Bin, on the other hand, plays Tae Al Ha, the most beautiful woman in Asadal who has the strongest desire for power.
The K-drama earlier released a teaser that features the main characters. Ta Gon is seen proclaiming who he is while Eun Sum reveals his plan to take down Ta Gon. Asadal Chronicles is scheduled to premiere on June 1 at 9 p.m. KST after the conclusion of Confession.
Netflix also announced that it will be releasing the upcoming K-drama globally. The streaming giant has yet to reveal the global premiere date for Asadal Chronicles but it is expected that it will air almost simultaneously with tvN.
© 2023 Korea Portal, All rights reserved. Do not reproduce without permission.