Backstreet Boys Celebrates 26th Anniversary; Nick Carter Asks *NSYNC For Collaboration Or Join Them On Tour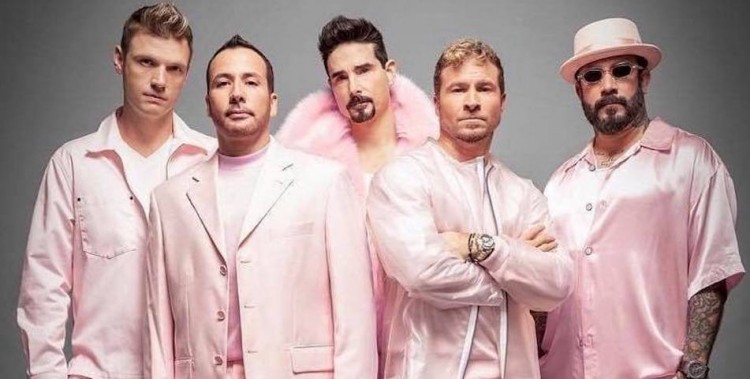 The world of boy band fans could explode when the hottest groups in the 90s, Backstreet Boys and *NSYNC, collaborate for a song or head on a tour together. This is what Backstreet Boys member Nick Carter would like to happen as they celebrate their 26th anniversary.
The Backstreet Boys just celebrated their 26 years as boy group. On April 20, AJ McLean, Howie Dorough, Nick Carter, Kevin Richardson, and Brian Littrell shared on Instagram a nostalgic throwback photo of them in the '90s.
The image shows the five members in their early days as teenage heartthrobs. In the caption, the group recalled the time when they started performing in high school gyms until this day that they are about to go on a world tour once again.
BSB was formed in Orlando, Florida on April 20, 1993. They become one of the best-selling boy bands of all time. The five-member group has sold more than 130 million records worldwide and earned a total of seven GRAMMY nominations.
Earlier this year, Backstreet Boys released a new album, DNA, their first in six years. DNA debut at No. 1 on the US Billboard 200 chart.
The group is currently preparing to kick off their DNA World Tour next month. They are also about to wrap their Larger Than Life Las Vegas residency at Planet Hollywood on April 27. Over the weekend, BSB was joined on stage by Aerosmith's Steven Tyler.
Meanwhile, BSB member Nick Carter also reached out to their closest rival in the 90s, *NSYNC. Carter would like to know if Justin Timberlake, JC Chasez, Chris Kirkpatrick, Joey Fatone, and Lance Bass would be interested in touring or collaborating on a song with them.
Carter shared a recent Rolling Stone article about *NSYNC touring without Timberlake. The singer said he would definitely watch *NSYNC if they would go on a tour before suggesting a collab with BSB.
"The world of pop needs this to happen. I'd go and watch them. Hell, maybe one day we could even do an #nsyncbackstreetTour or #nsyncbackstreetsong together #nsync #bringthemback #ourboys #90smusic #nsyncbackstreetboys #BackstreetBoys," he wrote on Twitter.
*NSYNC member Joey Fatone respond to Carter tweet and shared his thoughts about the latter's idea. Fatone said they have other collaborations that they have to finish first before jumping to another one.
*NSYNC, minus Justin Timberlake, hit the stage with Ariana Grande during her first-week performance at the Coachella Festival on April 14. Grande sang her recent single, "Break Up With Your Girlfriend I'm Bored," where she also samples the group's song, "It Makes Me Ill" as well as *NSYNC's hit, "Tearin' Up My Heart."
Hey we still have other Colabs we have not finished yet before u can think of other things lol

— Joey Fatone (@realjoeyfatone) April 21, 2019
© 2020 Korea Portal, All rights reserved. Do not reproduce without permission.