K-Pop Idol Sunmi Makes Her Fans Worry After Crying On VLive & Posting Disturbing Message On Twitter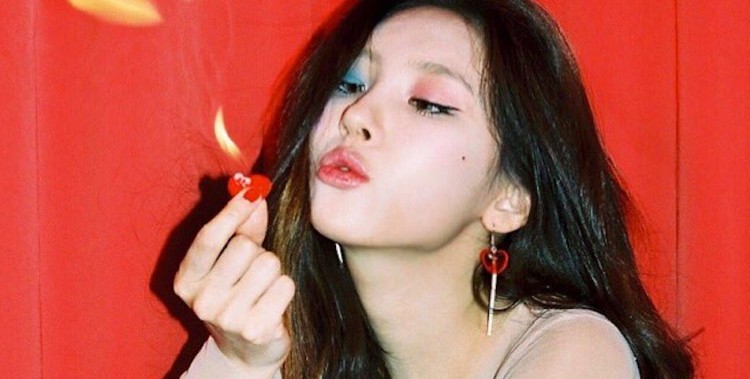 Fans of K-pop idol Sunmi have expressed their concern about the singer after she tweeted that she harms herself to get attention and likes. Fans get more worried when she also cried during a VLive broadcast.
Sunmi is one of the most successful K-pop group member-turned-solo artist in Korea. The former Wonder Girls member, however, recently made her fans worry because of her post on Twitter.
"Recently many people started to harm themselves to get attention and likes. So do I," she wrote on her social media account.
This made her fans anxious and flooded her Twitter account with comforting messages. Others also tried to calm their fellow Sunmi fans by saying that the Korean singer simply quoted the lyrics from her upcoming song.
However, some fans are not convinced that she just wrote the lyrics of her song. Other pointed out that self-harm shouldn't be considered as a concept.
The "Siren" singer, later on, cleared up the misunderstanding and confirmed that it is indeed lyrics from her upcoming song. Although the lyrics sound scary, she assured that her new song won't be too "serious." She also comforted her fans and said they have nothing to worry about.
Sunmi is set to release her new self-composed album, Noir, on March 4. She also earlier released some teaser images for her comeback album.
In an interview with Billboard, Sunmi talked about her upcoming song "Noir." She explained that noir is a French word which means "black, depressing, and ominous".
"They say there are more and more deaths each year due to people taking pictures and videos in dangerous places in order for more 'likes' and 'subscribers.' To me, that's 'noir,'" she told Billboard.
Meanwhile, Sunmi will kick off the North America leg of her Warning world tour on March 6, just a couple of days after the release of her new album. The singer will visit eight cities in North America starting in San Francisco on March 6.
The Warning concert tour has begun in Seoul on February 24. Sunmi will also perform for her fans in Hong Kong, Taipei, and Tokyo in April and May.
The 26-year-old K-pop singer-songwriter debuted on February 2007 along with four other members Wonder Girls: Sunye, Yeeun, Hyuna, and Sohee. Hyuna left the group in July of the same year and JYP Entertainment replaced her with Yubin.
Wonder Girls officially disbanded on January 26, 2017 after JYP Entertainment failed to reach an agreement with some members with regards to contract renewal. On February 10, 2017, the female group released their final single "Draw Me."
© 2020 Korea Portal, All rights reserved. Do not reproduce without permission.