George R.R. Martin Reveals Reason Why He Rejected A Cameo In 'Game of Thrones' Season 8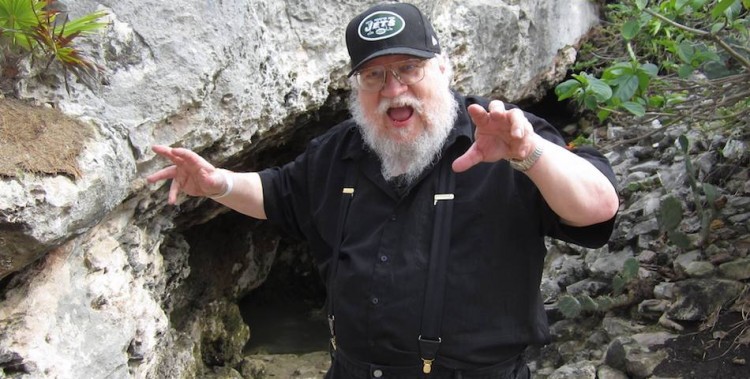 The Game Of Thrones television saga is about to end and naturally, fans of the Emmy-winning show would like to see on the series the man behind the novels: George R.R. Martin. However, the idea of Martin's cameo has finally put to rest by the author himself.
GRRM has confirmed that he will not appearin the final season of Game Of Thrones. He admitted that showrunners David Benioff and D.B. Weiss have invited him to make a cameo on one of the final episodes of GoT and he was tempted to do it.
However, the author declined the offer. Martin explained that he would not travel from his home in New Mexico to Northern Ireland just to film a cameo.
"But I didn't think just for the sake of a cameo I could take the time to return to Belfast," Martin told Entertainment Weekly.
GRRM added that he already did a cameo for GoT way back on its original pilot episode. He explained that he was supposed to be one of the guests at Daenerys' wedding. However, the footage was entirely thrown out.
English actress Tamzin Merchant played Daenerys in the original pilot. But all footages, including that of GRRM, were thrown out when the series recast and re-shot the pilot with Emilia Clarke playing the character.
Although disappointed, some fans of GoT understand why Martin chose to stay at home rather than to travel across the globe to film another cameo appearance. Some said the author is probably still busy finishing the sixth novel in A Song of Ice and Fire saga, The Winds of Winter.
Meanwhile, HBO earlier released a promotional clip features all of the network's shows that are set to return or premiere this year. One of the highlights of the clip is the GoT parts where Arya Stark (Maisie Williams) and Drogon are seen as well as Jon Snow (Kit Harington) and Daenerys Targaryen (Emilia Clarke). Drogon is seen flying overhead while the Unsullied march by and Arya looks up to admire the dragon.
Game of Thrones Season 8 is the final installment for the HBO series. It is set to premiere on April 14 at 9/8c on HBO.
While Game of Thrones will end this year, the pilot for the prequel is set to start filming this summer. Perhaps George R.R. Martin will be more interested to appear in the prequel series of GoT which he co-created.
© 2020 Korea Portal, All rights reserved. Do not reproduce without permission.