MONSTA X To Release Track Produced By BTS's Frequent Collaborator Steve Aoki; K-Pop Group New Album Tracklist Revealed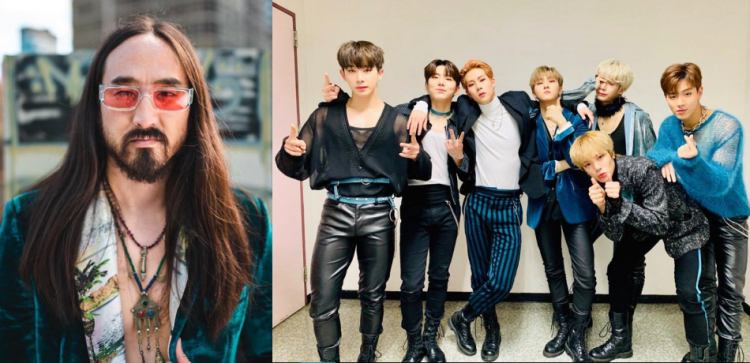 K-pop idols may have a special place on Steve Aoki's heart. He collaborator with another Korean boy group other than BTS. This time around, it's MONSTA X.
Aoki's wish came true. He now officially worked with MONSTA X. It can be recalled that in November 2018, the American music producer revealed that he hoped to collaborate with MONSTA X in the future.
He said at the time that MONSTA X has charm and outstanding production skills. Apparently, after the interview, Aoki and MONSTA X ended up collaborating.
The group is set to have a comeback this month and one of the songs in their upcoming second album is produced by Aoki. The song "Play It Cool" on the group's new album tracklist is produced by Aoki and co-written by MONSTA X member I.M.
All songs in the new album are co-written by the group's lead rapper and vocalist along with member Jooheon, except for "Play It Cool." MONSTA X member Wonho also wrote and produced "No Reason."
MONSTA X's second studio album, titled Take.2: We Are Here, is set to drop on February 18. It is expected to be followed by a comeback show from the group.
MONSTA X attracted the attention of the American audience late last year when they perform at the iHeartRadio Jingle Ball Tour 2018 multi-state concert tour. They are the first K-pop band to perform at the said annual event. They join other artists in caravan stops in Los Angeles, San Francisco, Minneapolis, Boston, Philadelphia, and New York.
Meanwhile, MONSTA X member Jooheon has officially changed his English stage name to "JOOHONEY." Reports indicate that the K-pop idol will start using his new stage new in their upcoming activities.
In other Steve Aoki and K-pop idol news, the former has also hinted that he might also do a collaboration with EXO member Lay. The two were previously seen together on the stage of the Samsung concert in China. Aoki praised Lay for his work ethic and said that the K-pop idol has the potential to become popular around the world.
Aoki revealed that he and Lay have been talking about doing "fun stuff" in the future. He refused to divulge more details about what they have been planning but said he is definitely going to do a project with Lay whom he called a "friend."
"I can definitely call him a friend now. Now we're talking about doing fun stuff in the future. I don't want to give too much away though," Koreaboo quoted Aoki as saying.
MONSTA X's "We Are Here" tracklist! it has been released by KBS pic.twitter.com/HyHtkuNWA5 — Wonhina (@rabbiwbebe) February 7, 2019
© 2020 Korea Portal, All rights reserved. Do not reproduce without permission.