Adam Levine Addresses Controversial Plea To Save 'The Voice' Season 15 Contestant From Elimination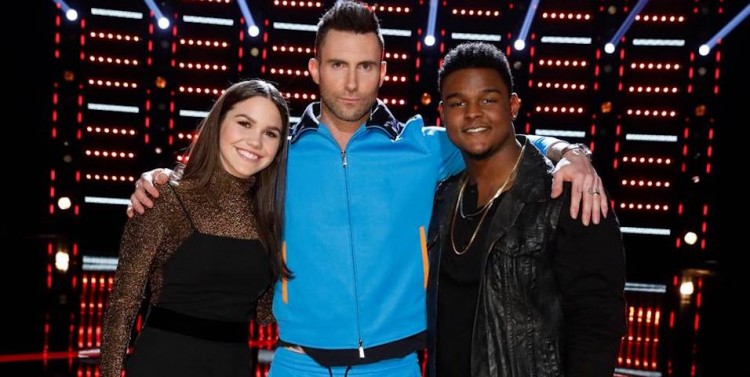 The Voice coach Adam Levine has been under fire after his controversial plea to viewers to vote for a contestant who failed to sing during an elimination round because she is sick. As the result, another contestant got booted out of the competition while the aspiring singer whom Levine favored got saved.
During the Monday's episode of The Voice Season 15, the bottom three Reagan Strange, DeAndre Nico, and Dave Fenley were all given a chance to perform one last time with the hope that fans would save them from being eliminated by tweeting their specific hashtags. Then host Carson Daly announced that Strange wouldn't be able to sing because she is not feeling well. However, fans would still be given a chance to save her with tweets.
Nico made a rendition of John Legend's "All of Me." Levine gave his comments about Nico's stellar performance but the Maroon 5 singer also did not shy away on showing his support to 14-year-old Strange.
Levine praised Nico for being an exquisite singer, saying he is really confused as to why the young singer is at the bottom three. Then he mentioned Strange in his comments for Nico, stressing about a talented girl at the backstage who could not fight her position to stay in the show.
"As much as I urge you all to vote for this man because he should never have been in the bottom ... I don't know if I have the heart to not tell everyone right now. I have a very special relationship with Reagan... The thought of breaking her heart by not urging everyone to give this girl a shot to go and redeem herself next week would be too far beneath me," Levine said.
The Voice coach's plea was slammed by netizens especially after the result of the votes come in. Strange was saved by extremely close votes to Nico- 38 percent to 37 percent, respectively. Strange made it to the semifinals and Nico did not.
Many viewers are furious of what Adam Levine did. Some argued that Levine's action was unfair to Nico who ended up getting eliminated. Other called the Maroon 5 singer to step down as The Voice coach. Levine addressed the issue and assured the viewers of the reality TV show that everything is fine between him and Nico.
"It was a strange week, but it's over now. DeAndre's my boy. I love him. We talked. It's all good," Fox News quoted Levine as saying.
Although Strange was saved on Monday's episode, she got eliminated the following day. The Voice Season 15 now has its Top 4 finalists: Kyla Jade and Spensha Baker of Team Blake, Brynn Cartelli from Team Kelly, and Britton Buchanan. The Voice Season 15 finale will air on December 17 and 18 at 8 p.m. EST on NBC.
© 2019 Korea Portal, All rights reserved. Do not reproduce without permission.