K-Drama 'Mama Fairy And The Woodcutter' Releases New Photos Of Lead Actors Yoon Hyun Min & Seo Ji Hoon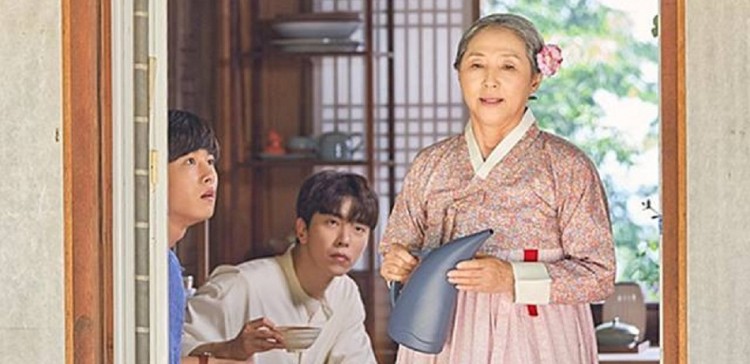 Korean TV network released new still images of the lead characters in the upcoming romance-comedy Mama Fairy And The Woodcutter. The photos feature the adorable characters in the series as well as the other supporting cast members.
In the new set of promotional photos, female lead character Sun Ok Nam (Go Doo Shim) looks happy while serving coffee to the two men. She believes that one of them could be the reincarnation of her husband. The two men cautiously take a sip of their drink while looking fascinated by the barista's behavior towards them.
The fantasy romcom is based on the 2017 popular webtoon of the same title by Dol Bae. It follows the life of a fairy who lost her clothes while bathing at a waterfall. A woodcutter took her clothes and hid them thus she could not go back home. She marries the woodcutter but after her husband's accidental death, she still couldn't find her fairy clothes. She decides to wait for her husband to be reincarnated instead.
In the present time, the 699-year-old fairy works as a barista. She appears old to ordinary people but to special people, she looks young. While working in the café, she meets two men. She follows them to Seoul to find out which one is her husband.
The series stars Criminal Minds actress Moon Chae Won as the young Sun Ok Nam and High Society star Go Doo Shim as older Ok Nam. Witch of Court actor Yoon Hyun Min and Prison Playbook star Seo Ji Hoon portray the role of Ok Nam's love interests Jung Yi Hyun and Kim Geum, respectively.
Gugudan member Mina is also in the upcoming TV series as Sun Ok Nam's daughter Jum Soon Yi who is, in reality, a tiger but evolved into a human through training. She also secretly writes steamy fiction.
tvN also shared photos of supporting cast members. Kill Me, Heal Me actress Ahn Young Mi plays the role of coffee truck owner Jo Bong Dae. Korean stars Ahn Gil Kang, Hwang Young Hee, and Kim Min Gyu portrays the three spirits of Gyeryong Mountain.
The 16-episode series is directed by Kim Yoon Cheol (My Name Is Kim Sam Soon). Mama Fairy And The Woodcutter is set to premiere on November 5 at 9:30 p.m. on tvN. It will have the Mondays and Tuesdays timeslot of 100 Days My Prince.
© 2019 Korea Portal, All rights reserved. Do not reproduce without permission.