K-Pop Group The Rose Apologizes For Using SHINee Member Jonghyun's Instagram Photos In MV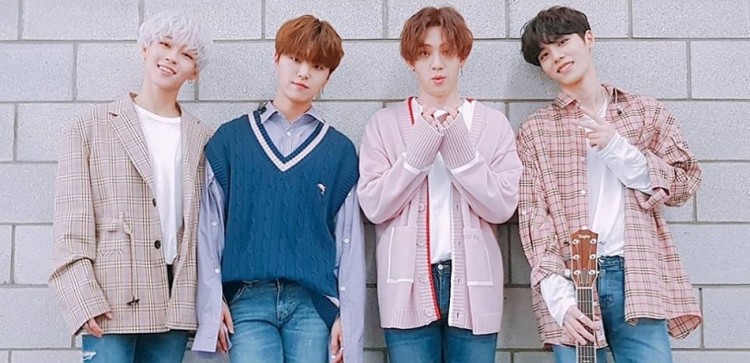 K-pop group The Rose has issued an apology for using the Instagram photos of the late SHINee member Jonghyun on their new music video. The MV caused an uproar among netizens after the IG photos of Jonghyun were seen as props in the band's latest song.
The Rose's latest mini album, titled Dawn, dropped earlier this month. The album has a total of five songs, including the title track "She's In The Rain." The MV for the single was released on the same day. The song gives the feeling of inclusion and offering comfort to those who are struggling with loneliness. However, despite the touching message, The Rose received backlash from netizens because of the props used in the music video of "She's In The Rain."
In the controversial MV, bands members Woosung, Dojoon, Jaehyeong, and Hajoon sing and play instruments. In several scenes in the video, they are also seen in what seems to be a classroom full of students' chair. In the room, the idols are also surrounded by polaroid photos hanging from the ceiling.
Netizens immediately noticed the pictures are similar to those in Jonghyun's Instagram account. Upon closer inspection, fans discovered that the images were indeed from Jonghyun's social media account. Some believe that The Rose nor their label J&Star Company did not ask the permission of the late idol's family if they could use the images as props in an MV. Many demand the band to take down the MV.
J&Star Company issued a statement confirming that the photos are indeed of Jonghyun's. The label said the MV was done in partnership with production company Beat Logic and the photos were used to depict a message of remembrance of the late singer as well as the message of comfort that the song would also like to express.
The company apologizes to the family of Jonghyun, SHINee's label SM Entertainment as well to the fans of the late idol. J&Star Company has also taken down the MV from the official YouTube account of the band.
"The issue ultimately occurred due to the fact that we at J&Star and our label artist The Rose were unable to pick up on this particular usage of props, and we carried out MV filming ignorantly, failing to become aware of this portion until after the MV's release. Both we at J&Star and at Beat Logic believe that this incident was not intentional with the purpose of using a particular, tragic figure for business or marketing purposes," the company stated.
The Rose debuted in August 2017. The band so far released two mini albums. The four-member K-pop group also successfully completed their concert tour in several cities in North America, Europe, and in Latin America.
© 2023 Korea Portal, All rights reserved. Do not reproduce without permission.