'Thirty But Seventeen' Breaks Double-Digit Ratings + Woo Jin & Chan Are In Big Trouble Next Week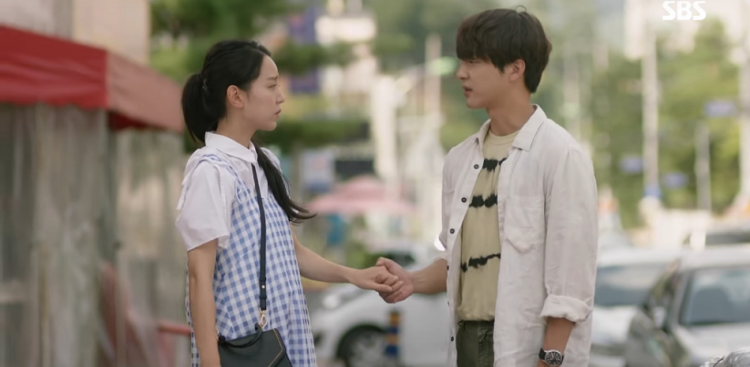 SBS's hit series Thirty But Seventeen hit the double-digit mark in viewership ratings with its previous episode. It is expected that more K-drama fans will turn in to the TV series as Seo Ri is about to face more challenges in the upcoming episodes.
According to Nielsen Korea, the one-month-old TV show scored 10.5 percent nationwide for its August 14 broadcast, making it the show's personal best. It also recorded 5.7 percent among the 20-40 age bracket which is the target audience for TV networks and advertisers. TThirty But Seventeen also maintained its dominance on its timeslot.
The highest viewership ratings of Thirty But Seventeen so far is credited to Episodes 15 and 16 in which Woo Seo Ri (Shin Hye Sun) and Gong Woo Jin (Yang Se Jong) made viewers' hearts flutter in several scenes. The two opened up about their pasts without realizing that they are connected. Before that, Seo Ri and Woo Jin also shared some spicy noodles and had a great train ride going to a workshop.
Viewers also felt sad but excited for Seo Ri's independence. The show's leading actress was supposed to leave Woo Jin's house as their month-long housing agreement is almost over. But there has been a setback on her plan, and Woo Jin invited her to stay with them again until she finds her place.
The problem is Yoo Chan's (Ahn Hyo Seop) mother, Gong Hyun Jung (Lee Ah Hyun), is coming home. The two rushed back home to warn Seo Ri about Woo Jin's sister. Unfortunately, they were late. She is already at their doorstep, taking to Seo Ri. Will she allow Seo Ri to stay in the house?
Meanwhile, the mysterious yellow shoes-wearing lady finally revealed her face. It turned out that she has been watching the Woo Jin's house from afar because of Hwang Mi Jung, a.k.a. Jennifer (Ye Ji-won). It looks like the Woo Jin's housemaid is also hiding a secret. Jennifer's backstory is expected to be revealed in the upcoming Thirty But Seventeen Episodes 17 and 18 next week.
The romance-comedy series follows the life of Woo Seo Ri whose life change after she got involved in an accident when she was 17 years old. Severe injuries from the incident left her in a coma for 13 years. She wakes up after more than a decade only to find out that her aunt and uncle already abandoned her.
Gong Woo Jin, on the other hand, blames himself for what happened to the teenage girl he fell in love with 13 years ago. Thirty But Seventeen airs Mondays and Tuesdays at 10 p.m. KST on SBS.
© 2019 Korea Portal, All rights reserved. Do not reproduce without permission.