'Thirty But Seventeen' Episode 15-16 Spoilers: Seo Ri Could Finally Realize Who Woo Jin Is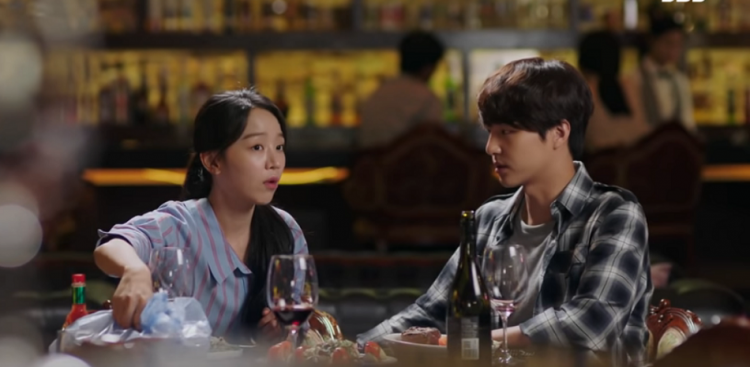 It is getting hotter in South Korea so as the anticipation in the upcoming episodes of K-drama Thirty But Seventeen. Seo Ri and Woo Jin may finally know who each other are in Episodes 15 and 16.,
The two shared a special moment when they laid side by side on a green lawn in the previous episodes. Woo Jin (Yang Se Jong) got drunk and fell asleep while Seo Ri (Shin Hye Sun) watches over him.
The previous episode also ended with a cliffhanger. Woo Jin checked the storage room where he hides his childhood stuff. He opened a box where all his awards were kept. A crescent moon keychain with a rabbit head dropped from the file of papers. The keychain was the one he accidentally took from teenage Seo Ri before the tragic accident happened 13 years ago.
But before Woo Jin was able to pick up the keychain, Hee Su called reminding him about his early meeting. Woo Jin quickly left the storage room. But then the box falls and the door swings open. It turns out that Woo Jin's painting of teenage Seo Ri is also in the same box.
Seo Ri and Fang are in the yard. Fang runs to the storage room, and Seo Ri follows him. Inside the room, Seo Ri finds the muddy paw prints of Fang leads to a painting. Will Seo Ri finally realize who Woo Jin is?
Viewers can't wait for Thirty But Seventeen Episode 15 and 16. Both will air on Tuesday at 10 p.m. KST on SBS. It will also feature Seo Ri and Woo Jin on a trip together. It looks like they will have a great time as Woo Jin is seen singing while on board a bus.
Thirty But Seventeen tells the story of Woo Seo Ri who fell into a coma when she was 17 years old after being involved in an accident. She wakes up 13 years later and finds out that she is already 30 years old. Gong Woo Jin, on the other hand, still blames himself for what happened to his young love 13 years ago.
Meanwhile, the August 13 episodes of Thirty But Seventeen garnered an almost double-digit viewership rating. The show recorded a 9.7 percent viewership in national ratings, according to Nielsen Korea. It is an increase from the show's best of 9.1 percent.
The upcoming Tuesday's episode is expected to reach a double-digit nationwide rating as anticipation on whether or not Seo Ri and Woo Jin will finally realize who each other are. Seo Ri and her childhood rival Kim Tae Rin (Wang Ji-won) will also see each other in Episodes 15 and 16.
© 2019 Korea Portal, All rights reserved. Do not reproduce without permission.