'Descendants Of The Sun' Actor Song Joong Ki's Fan Meeting Venue, Tickets, & More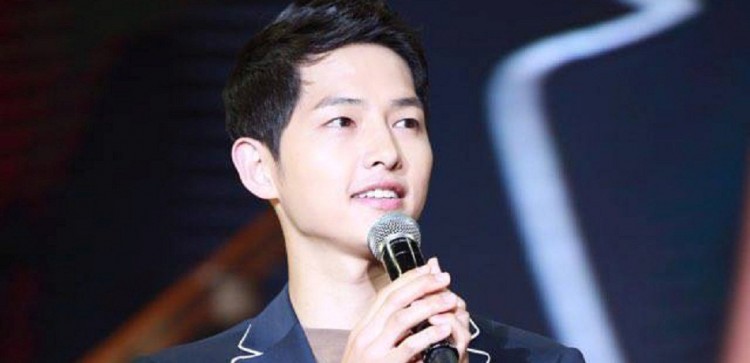 Everything is set for the first fan meeting of Korean actor Song Joong Ki after two years of being away from the spotlight. Details for the event have already been released including the venue and ticket price.
The Descendants Of The Sun star is holding a fan meeting in celebration of his 10th anniversary in the entertainment industry. The event, titled The Days We Spent Together, is set for September 1 at 4 p.m. KST and it will be held at the Kyung Hee University Grand Peace Palace.
The actor's official fan club account on Facebook, Ki Aile International, shared that the pre-selling of tickets for the official members of Ki Aile's Daum Café has started on August 9. Fortunately, it was already closed. Regular tickets, which also became available on the same date, are still available at the moment. Tickets can be purchased through the Interpark site. Ticket price is at 40,000 KWR for all sections of the venue.
Many are expecting that Korean actress Song Hye Kyo will make a special appearance in the event to show support to her husband. The last time Song Joong Ki had a fan meet was in 2016 during the airing of the SongSong couple's hit drama Descendants of the Sun.
Meanwhile, Song is also making a small screen comeback with the new TV series Asadal Chronicles. The actor along with Kim Ji Won, Jang Dong Gun, and other cast members will have their first script reading on August 26, a few days before Song's fan meeting.
Asadal Chronicles will tell the story of love and power at the ancient city of Asadal during the Gojoseon period. Song Joong Ki will play the lead character Eun Som, a cursed child born who was in Blue Stone Village. He later becomes a conqueror of Asadal and will make it an empire.
Kim Ji Won will play the role of Eun Seom's first love, Tan Ya. She was born under a cursed sign but overcomes hardships in life to become the first female politician of Asadal. Jang Dong Gun, on the other hand, will portray the role of the antagonist Tae Gon, an ambitious war hero. He aims to become the first King of Asadal.
Asadal Chronicles is a reunion for Song and Kim, who worked together in DOTS. The new tvN K-drama is set to begin production soon. It is scheduled to premiere in 2019.
© 2023 Korea Portal, All rights reserved. Do not reproduce without permission.