'Outlander' Season 4 Star Caitriona Balfe Willing To Trade Sam Heughan For 'Hamilton' Tickets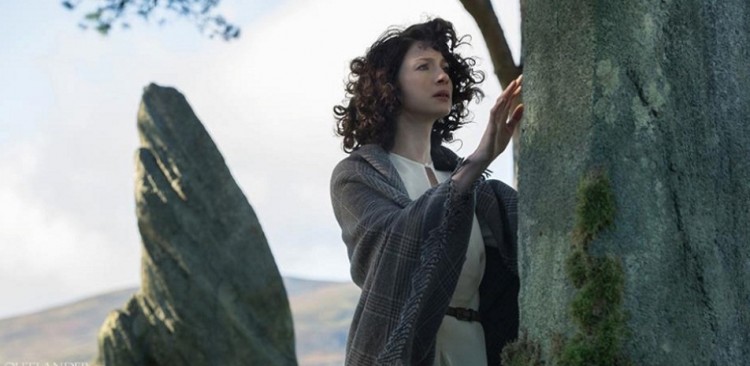 Hamilton creator and actor Lin-Manuel Miranda and his wife are among the people who have been waiting for droughtlander end. Like other fans, Miranda's wife, Vanessa Nadal, also wishes to be in the Outlander world to meet the gorgeous Highland warrior Jamie Fraser.
In his recent tweets, the Broadway star revealed how Outlander fanatic his wife is. Miranda shared a photo of Nadal tapping on a huge stone in a henge, probably at the same set location for the fictional Craigh na Dun in the TV series. It appears like it was not the first time Mrs. Miranda tried to do magic in the stone.
"Every time we pass a damn henge my wife tries to Outlander her way to Jamie-land. Give it up lady," Miranda captioned the photo. Earlier this year, the award-winning playwright also shared a photo of Nadal in another henge. She captioned her photo, "Jamie, I'm on my way!"
In the series, 20th-century nurse Claire (Caitriona Balfe) traveled through the stones of Craigh na Dun in Scotland to the 18th century. In there, she met and fell in love with Jamie (Sam Heughan). Nadal is trying what Claire did whenever she sees a henge.
Miranda's latest Outlander tweet received an equally fun response from Outlander stars. Heughan retweeted the image and wrote, "Lady has remarkable taste" to which the Broadway star jokingly replied that he already took out his Hamilton pistol in order to duel Heughan. He also posted a GIF from the show in which Claire can be seen saying, "How dare you."
Balfe, on the other hand, had an interesting response for Miranda. The actress said she is willing to trade her on-screen husband for some tickets to the Broadway show. She also added hilarious hashtags such as "#everyonehasaprice" and "#justfeedandwaterhimdaily." The exchange did not stop there. Miranda replied to Balfe and suggested a "time travel Wife Swap."
It appears that Nadal is not the only Outlander fan who wish to "time-travel" to 18th-century Scotland. Some fans also retweeted Miranda's post along with their photos at every henge that they could find. Interestingly, Miranda, later on, posted some photos of his wife with the 18th-century castle in the background and he captioned it with "Oh no it WORKED."
It will be interesting to see if Miranda grants Balfe's wishes to see the Hamilton or if the stage actor will appear in the Outlander series. It may not be in Outlander Season 4 since the production for the fourth installment had wrapped up. But who knows it can be Season 5 and 6 especially since author Diana Gabaldon also noticed Miranda's post.
Lady has remarkable taste. https://t.co/3PfuR0Jlek — Sam Heughan (@SamHeughan) August 8, 2018
Um I did a funny tweet and now I'm in a time travel Wife Swap help https://t.co/j6qu2YP9eM — Lin-Manuel Miranda (@Lin_Manuel) August 9, 2018
© 2023 Korea Portal, All rights reserved. Do not reproduce without permission.