BLACKPINK's Jennie & Jisoo Became Close Friends After Talking While 'Completely Naked' [WATCH]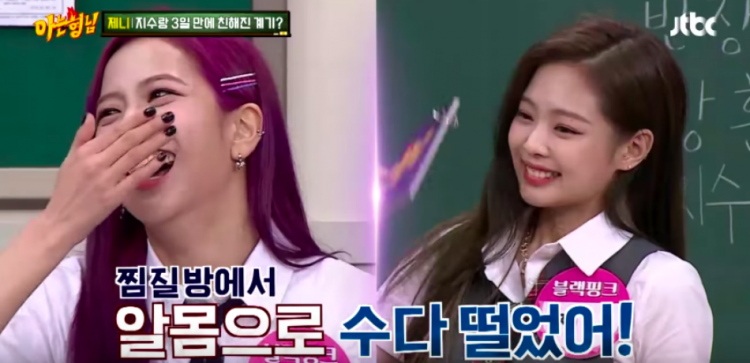 BLACKPINK is the reigning queen in the K-pop entertainment world right now after breaking record after record and winning multiple awards during their recent comeback. However, it appears that the best achievement that they have gotten from all of this is friendship.
It is quite visible that Jisoo, Jennie, Rose, and Lisa are very close. The YG Entertainment girls would cuddle each other on stage, during guesting and live broadcasts. They are also very comfortable with each other that they would hug and kiss each member in public.
In fact, during BLACKPINK's appearance on JTBC's "Ask Us Anything" on Aug. 5, Jennie revealed that she became close friends with Jisoo in just three days. The 22-year-old singer and dancer then asked the cast to guess how she and Jisoo became close. After taking a couple of wrong answers, she finally told them that, "It happened when we went to a jjimjilbang (Korean sauna) together and shared a deep conversation completely naked."
Jisoo then added, "After shedding our clothes and sitting in the hot water, we started talking about our futures." The 23-year-old then went on to say that, "It hadn't been that long since we'd met, so we were still speaking in honorifics to each other. But we sat in the hot water and shared our dreams. We even said cheesy things like, 'You're going to make it. Dominate the stage."
Being a K-pop artist is no joke. Unlike in the Hollywood music industry where some of the stars were made instantly, South Korean aspirants have been training for years before their debut.
After achieving success in the business, their schedule becomes very demanding that they wouldn't even have the time and chance to see their family for a long time. It reached to the point that their members in the group become their family.
Thankfully, Jisoo, Jennie, Rose, and Lisa are so close that they know that they have each other's backs during this journey. After all the handwork and perseverance, they are now enjoying their success together.
© 2023 Korea Portal, All rights reserved. Do not reproduce without permission.